YouCopia StoreMore Adjustable Bakeware Rack Pan
Bakeware Organizer
The Store more bakeware pan organizer cutting board organizer allows you to organize pans, platters, cutting boards and more in lower kitchen cabinets. It features seven adjustable dividers to perfectly fit items so they remain upright and separated. It's easy to grab one thing at a time! Coated steel wires won't scratch pans and soft feet hold everything in place. No mounting or installation required.
Color: white, metal
Brand: YouCopia
ASIN: B00VG7VZ7I
UPC: 899869002757
Part No: 09011-01-WHT
2 Pack - SimpleHouseware Kitchen Cabinet Pantry and Bakeware Organizer Rack Holder,
Bakeware Organizer
SimpleHouseware 2PK Kitchen Pantry Organizer Rack, Silver Two Set 3-Compartment Rack for storage for pot lid, cutting board, cookie sheet, pan, bakeware organization. Two Sets 3 Compartments rack means you can either put them together or use them separately
Color: Sliver
Brand: Simple Houseware
ASIN: B01LXKKNTV
UPC: 707129800473
Part No: CO-010-2
Stock Your Home Large Rust-Free Durable Coated Steel Bakeware Organizer - Kitchen Cookware Rack for Dinnerware, Bakeware, Cookware, Cutting Boards, Pot, Pan Lids (White, 2
Bakeware Organizer
The Stock Your Home Large Steel Bakeware Organizer Rack is made of durable coated steel. The dimensions are 10-3/4" x 10-1/4" x 7-1/2" high. Get two racks with 4 slots each to store: cookie sheets & bakeware, cutting boards, serving trays, placemats, large plates & platters, pots and pans, and more. This sturdy, multi-use home organizer can also be used to store clothing, towels and bed linens, magazines, office and craft supplies, LP's, and more. No assembly required.
Color: White
Brand: Stock Your Home
ASIN: B00KLH2EY2
UPC: 700646874767
Part No: B00KLH2EY2
Spectrum Diversified Euro Lid Organizer, Plate Rack, Lid Holder, Square, Satin
Bakeware Organizer
Clear up precious cupboard space with the Euro Kitchen Organizer. This rack organizes your lids, plates and baking sheets with ease. Made of sturdy steel, its clean design will add a modern touch to your home. With 8 roomy sections, this organizer keeps your cooking essentials upright for easier selection when you need them. Measures 4.25"H x 13.5"W x 4.5"D. Spectrum products incorporate original designs created by and for the exclusive use of Spectrum. Most of Spectrum's products are protected by intellectual property rights including issued design patents and pending design patent applications. Protection for certain products may be provided and/or augmented by other federal and state proprietary rights including trademark, trade dress and copyright rights in the appearance and design of the products.
Color: Satin Nickel
Brand: Spectrum Diversified
ASIN: B0019HQH32
UPC: 798527236582
Part No: 32078
Lynk Professional Professional Slide Out Cutting Board, Bakeware, and Tray Organizer with Pull Out Kitchen Cabinet Rack, 10w x 21d x 9.6h -inch,
Bakeware Organizer
Lynk Professional slide out rack is unequalled for organizing all those difficult to store heavy, bulky cutting boards, tall trays, and oversized baking pans. Our slide out organizer has tall heavy-duty dividers to keep everything organized, separated and easy to access. All bakeware is neatly held in place and the shelf slides to the front of cabinets for easy selection. This extra deep 21 inch storage rack takes full advantage of the entire depth of your kitchen cabinets, so there is no wasted space. Lynk's unique stainless steel welds, strong cross-beam construction, and the highest quality steel and chrome finish give you unparalleled strength and durability. The patented ProGlide industrial-grade ball-bearing glides ensure smooth, quiet sliding even when loaded with bakeware and heavy cutting boards. And with our proprietary Easy Mount design, setup is quick and easy (with just 4 screws – included) because our clever alignment guide does the measuring for you. Lynk Professional offers a complete selection of pull out under cabinet organizers for any cabinet in your home. Product Dimensions: 10 inch wide x 21 inch deep x 9.6 inch high. Requires a minimum 11 inch cabinet opening. Hardware included.
Color: Chrome
Brand: Lynk
ASIN: B017Y7BLLS
UPC: 013359302213
Part No: 430221
DecoBros Kitchen Houseware Organizer Pantry Rack,
Bakeware Organizer
DecBros Kitchen organizer is good tool for you to organize cutting board and cookie sheets.
Color: Silver
Brand: Deco Brothers
ASIN: B00COCBH36
UPC: 885767056077
Part No: RK-005-1
GeekDigg Pot Rack Organizer, 3 DIY Methods, Height and Position are Adjustable 8+ Pots Holder, Black Metal Kitchen Cabinet Pantry Pot Lid Holder
Bakeware Organizer
GeekDigg Height And Position are Adjustable Pot Rack Organizer Package Included: A holder; 8 adjustable tiers; Quick Installation: The pan pot rack comes with everything you need and can be set up in less than 1 minute. As the package arrive, everything is ready for you and you're good to go; The Height and Position are Adjustable: The Black Metal Pot Hold's Height And Position are Adjustable, Provides You More Options to Organize Pots with Different Sizes. Large Storage Capacity: This height and position adjustable pot holders store up to 9 frying pans, sauce pans, griddles or pots of various sizes Solid Construction: This pot rack organizer made by heavy duty iron with Spray Painting Process Finished. It's Very Firm and Elegant Special U Shape Groove Design: While being used vertically, the special U shape groove design is able to hold the pot lids steadily in place. TWO Installation Modes: There are two unique designs for installation methods. The pot lid rack coming with 8 adjustable tiers, you can either install 8 tiers on one side of the pan rack or install 4 tiers on both sides of the pan rack
Color: Black
Brand: GeekDigg
ASIN: B07GWCGT9N
Part No: GDPR1931BKUS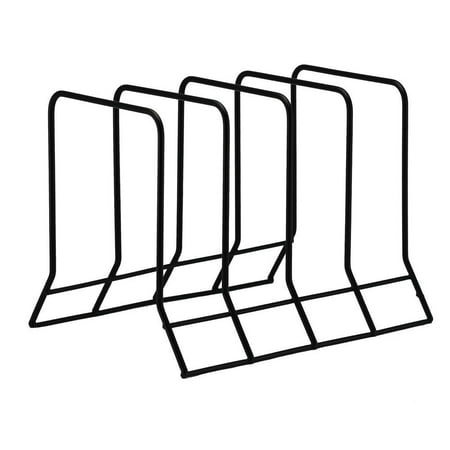 JMiles UH-LR246 Kitchen Bakeware Pot Lid Rack Holder Organizer
Bakeware Organizer
Model: UH-LR246
Color: Black
Price: 11 17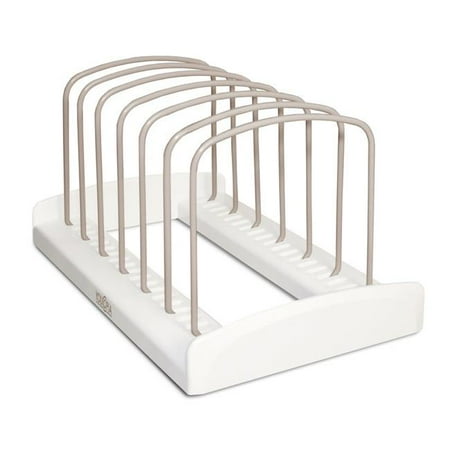 StoreMore Adjustable Bakeware
Bakeware Organizer
Model: TO152703
Color: Multicolor
Price: 22 28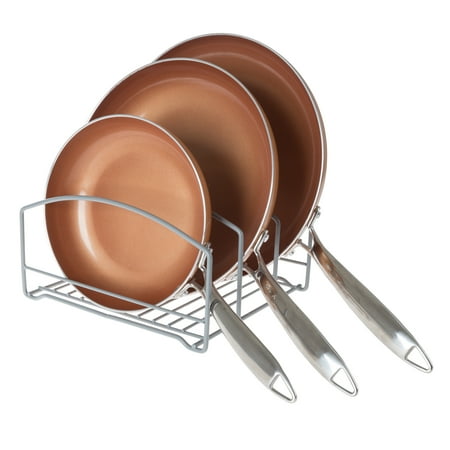 Kitchen Cabinet Organizer- Chrome Houseware, Bakeware and Cookware Pantry Storage Rack by Lavish Home (Great for Household
Bakeware Organizer
Model: 83-43
Color: SilverWhite
Price: 9 19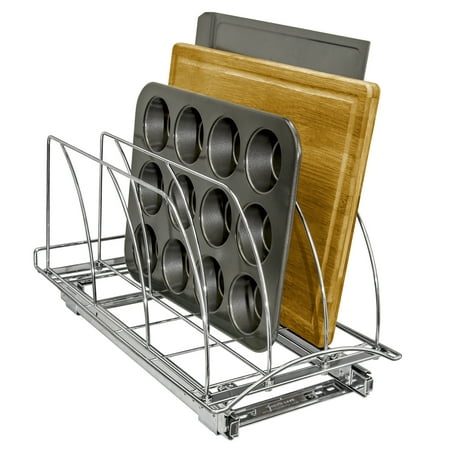 Lynk Professional Slide Out Cutting Board, Bakeware, and Tray Organizer, Pull Out Kitchen Cabinet Rack, 10"W x 21"D,
Bakeware Organizer
Model: 430221DS
Color: SilverChrome
Rating: 5.0
Price: 59 65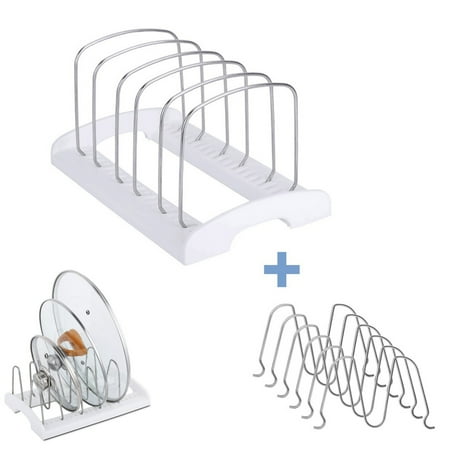 Sturdy Adjustable Pot Lids Rack Pans Bakeware Holder Kitchen Organizer with Extra Dividers 11.5" x 7.24" x
Bakeware Organizer
Model: W-YT042A
Color: White
Size: x 6.38\"11.50 x 7.24 x 6.38"
Price: 19 29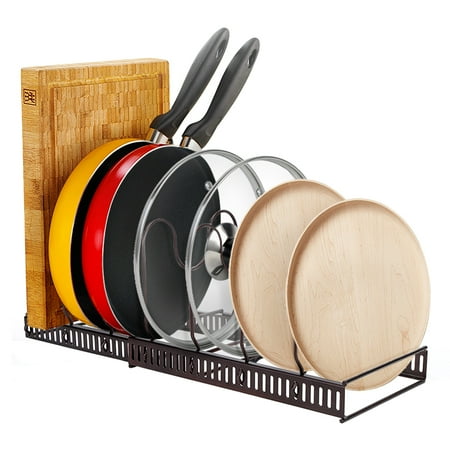 Yosoo New 7-Tier Pan Organizer Rack, Kitchen Cabinet Pan Pot Lid Organizer Rack, Pantry Cabinet Storage Rack Holder, Pantry Cupboard Bakeware Lid Plate Holder - Expandable and Adjustable
Bakeware Organizer
Size: 77 compartments
Price: 22 33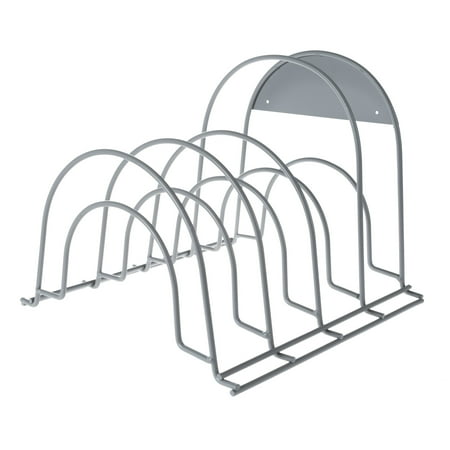 Kitchen Cabinet Pot, Pan and Lid Organizer and Holder- Iron Storage Pantry Rack Shelf for Pots and Pans, Houseware, Bakeware and More by Lavish
Bakeware Organizer
Model: 83-44
Color: White
Rating: 2.833
Price: 7 18
Bakeware Organizer Video Results
How to Install a Bakeware Organizer For Your Home | DIY Home Improvement
Bakeware Organizer
Tired of having to dig through baking sheets and pans stacked on top of each other? A Bakeware organizer can make all the difference! In this video, our fastener specialist demonstrates how to install one of these organizers and what you need to know to install the organizer with ease. You can p...
Likes: 3
View count: 297
Dislikes: 0
Comments:
Bakeware Organization ~ Organizing Your Cookie Sheets and Sheet Pans ~ Weekly Cooking Tips
Bakeware Organizer
Bakeware Organization. Organizing Your Cookie Sheets and Sheet Pans. Weekly Cooking Tips. My Saturday Morning Cooking Tip for this week is how to organize your bakeware, cookie sheets, and sheet pans. These pans can be a mess in your cabinet because they are different sizes and very large. This i...
Likes: 90
View count: 1226
Dislikes: 3
Comments:
StoreMore Set of 2 Pot Lid & Bakeware Organizers on QVC
Bakeware Organizer
For More Information or to Buy: http://qvc.co/1LONBV3 This previously recorded video may not represent current pricing and availability.
Likes: 20
View count: 6944
Dislikes: 2
Comments:
Globeiz.com is a participant in the Amazon Services LLC Associates Program, an affiliate advertising program designed to provide a means for sites to earn advertising fees by advertising and linking to Amazon.com. Amazon and the Amazon logo are trademarks of Amazon.com, Inc. or one of its affiliates