Castle Creations CSE011-0119-00 Link V3 USB Programming
Castle Link Usb
Program your castle brushless ESC and accessories on your windows pc with the castle link USB programming kit.Set up of programmable options with point and click ease view your current program settings air users can customize values for low-voltage cutoff, prop brake strength, governor gain and more surface users can customize values for low-voltage cutoff, drag brake, torque limiting and more download new software updates as they become available simple programming interface featuring: all-in-one support for all Phoenix, Talon, Thunderbird, quad pack, DMR, Mamba, Sidewinder, and Hydra controllers, as well as accessories like telemetry link, as well as all of our external switching regulators (becs).demo mode allows users to check available settings without connecting their castle device to the computersimple to install softwareexpanded programming and parameters for all castle escsset-up instructions: download the interface software from our software area.Plug the castle link into the receiver lead on your controller and attach the mini USB cable included in the kit.Connect the USB cable to your pc.For more information, see the castle link software page.For more information about the castle link software, visit the downloads page.Castle link contains a proprietary interface adap...
Brand: Castle Creations
ASIN: B0716SH9V8
UPC: 819326011634
Part No: CSE011-0119-00
Castle Creations Castle Link USB Programming
Castle Link Usb
Program your Castle brushless ESCs and accessories on your Windows PC with the Castle Link USB programming kit.
Brand: Castle Creations
ASIN: B000BOG8V0
UPC: 885374436934
Part No: 010-0005-00
Castle Creations 010-0079-00 Castle Link Quick
Castle Link Usb
Key FeaturesInstalls inline between ESC and receiver-and you leave it inFacilitates Castle Link functionNo more chasing wires inside tight placesOverviewExperienced modelers go to great pains to tie down their servo and throttle leads, and some find unplugging a Castle controller from the RX disrupts all their work. Many have asked for something like a Y connector that gives an open lead for easy Castle linking, but a traditional Y harness doesn't work when the other branch of the Y is connected to an RX, the signal line must be disconnected from the RX. Castle Quick Connect does just that. It detects the presence of a Castle Link adapter on the free lead and switches the controller's signal line from the RX to the Castle Link. Easy as that.This product is not intended for use by children under 14 years of age without direct adult supervision.Detailed Information
Brand: Castle Creations
ASIN: B0047B74IE
UPC: 794628957531
Part No: 010-0079-00
Castle Creations Field Link Portable Programmer for
Castle Link Usb
Field Link Portable Programmer Surface
Brand: Castle Creations
ASIN: B002XKH2VU
UPC: 899598001946
Part No: 010-0063-00
Castle Creations Sidewinder 3 Waterproof ESC, Scale
Castle Link Usb
Key Features2S and 3S LiPo CompatibleWaterproof DesignOverviewCastle's Sidewinder ESC, the leading 1/10th scale sport brushless ESC, is now waterproof. The new Sidewinder 3 can power crawlers on water filled trails, SCTs through rain soaked parking lots, and AWDs on rips across muddy fields. Drivers can follow their irresistible urges to drive in the mud or stomp their truck in puddles without damaging their controller.Designed for 1/10thThe Sidewinder 3 ESC is a great fit for 1/10th off-road, on-road, and rock crawlers running up to 3S LiPo*. It sports updated circuitry for faster response time and improved reliability. As always, the Sidewinder 3 offers industry-leading software functions and USB programming capability via Castle Link USB adapter (sold separately).
Brand: Castle Creations
ASIN: B00AQYMQDE
UPC: 753860269116
Part No: 010-0115-00
Toy / Play Castle Creations Castle Link USB Programming Adapter, programmer, cable, field, card, esc Game / Kid /
Castle Link Usb
Toy / Play Castle Creations Castle Link USB Programming Adapter, programmer, cable, field, card, esc Game / Kid / Child
Brand: Get RC
ASIN: B00EIDTG8C
Castle Creations 010-0063-01 Portable Programmer Air Field
Castle Link Usb
OverviewThe Field Link programming card allows you to change popular control settings quickly without a computer - great for the field box or workbench! Field Link cards offer the simplicity of one button operation. Click to move through the settings and hold/click to change the values. It's that easy! You can also use the Field Link card as a USB adapter to connect Castle Link compatible controllers to their Windows PCs for complete access to all available programming options. The AIR Field Link is compatible with nearly all Phoenix, Phoenix HV, ICE, ICE HV and Thunderbird controllers as well as CC BEC and CC BEC PRO BECs.
Brand: Castle Creations
ASIN: B002XKIN3G
UPC: 885571759126
Part No: 010-0063-01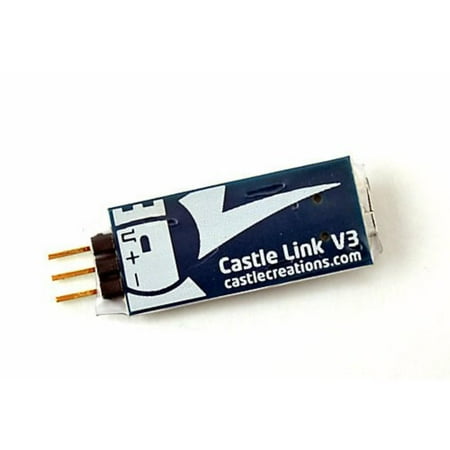 011-0119-00 Castle Link V3 USB Programming Kit, This product is made from high quality materials, and it is designed for lasting performance. By Castle
Castle Link Usb
Castle Link Usb Video Results
Castle Link Install and Walkthrough
Castle Link Usb
I was going to adjust some settings on my esc and I wanted to share with you all how it works. Hopefully you find this helpful! Thanks for watching! Follow me on Instagram: @flashhobbies Follow on instagram: flashhobbies Find copyright free music: https://www.youtube.com/user/NoCopyrightSounds...
Likes: 199
View count: 24074
Dislikes: 6
Comments:
How To Use Castle Link By Castle Creations-Tutorial Program Your ESC
Castle Link Usb
A quick walkthrough on how to use the castle link to program your esc for any castle creations esc. We show you how to program a Mamba Monster System but the process is the same regardless of what RC motor and ESC from castle you are using. First Make Sure You Subscribe To Our Channel Here-Its F...
Likes: 421
View count: 90678
Dislikes: 10
Comments:
RC Overdose-Castle Link USB (Program &Setup)(Rustler 5700Kv SV3)(Castle creations)
Castle Link Usb
Hey folks,Welcome to RC Overdose.This evening i wanted to program the esc to beable to run nimh batteries.I bought the castle link usb through amazon.ca for $35.00 CAD.Very cool stuff,love castle already. Hope this information was helpful,thankyou for tuning in RC Overdose.If you guys have any qu...
Likes:
View count: 619
Dislikes:
Comments:
Globeiz.com is a participant in the Amazon Services LLC Associates Program, an affiliate advertising program designed to provide a means for sites to earn advertising fees by advertising and linking to Amazon.com. Amazon and the Amazon logo are trademarks of Amazon.com, Inc. or one of its affiliates