Ansen Tools AN-133 Diamond Tip Hex Head Concrete Screw Anchor 3/16" x 1 1/4". 100 Piece With Drill
Concrete Anchor
The Ansen Tools AN 108 Diamond Tip Hex Head Concrete Screw Anchor with its Diamond Tip is designed for the most precise penetration in extra hard materials. The screws are made from high-grade hardened carbon steel with the advanced plating process; Envirocoat, which provides lifetime corrosion resistance. Drill bit included for pilot hole in concrete. Screw anchors are ICC Listed for Quality Control (see report ER-5045). Box comes with 100 screw anchors and carbide tipped drill bit.
Color: Blue
Brand: Ansen Tools
ASIN: B06XNT6YDB
UPC: 646437074612
Part No: AN 133
Lag Bolt Kit for Mounting A TV Into Wood Or Concrete - Includes Heavy Duty Bolts, Fischer Concrete Anchors and 2 Drill
Concrete Anchor
Get your TV re-mounted in wood or concrete in no time with this complete mounting kit. We put together high-quality hardware into a convenient pack to save you time and a headache trying to figure out what you need. This heavy-duty kit includes: 4 custom-hardened lagbolts 4 Fischer concrete rated achors 1 wood-stud drill bit 1 concrete drill bit Never re-use the original hardware if you are moving your TV mount. Grab this kit to make sure your TV stays on the wall. You can safely use this kit with any TV mount. NOTE: Concrete anchors are not compatible with brick for TV wall mount applications.
Brand: ECHOGEAR
ASIN: B07CQ4952W
UPC: 793795532640
Part No: EGHWLB
CONFAST 1/2" x 5-1/2" Wedge Anchor Zinc Plated (Box of
Concrete Anchor
ApplicationsThe anchor is made from Carbon Steel, and is Zinc Plated. This anchor is designed for use in Concrete only, and should never be used in block or brick base material. EnvironmentThe anchor is designed for use in a Dry environment.Hole Diameter/Bit DiameterThe anchor requires a 1/2" hole to be drilled in the base material (Concrete only). The hole should be drilled with carbide tipped bit that meets ANSI standards and used in a hammer drill.Diameter of Anchor The diameter of the anchor is 1/2".Length Anchor The length of the anchor is 5-1/2"Thread LengthThe length of the threads on the anchor is 4" in length.Minimum EmbedmentThe minimum anchor embedment into the concrete is 2-1/4". Therefore, the anchor must be installed so that a minimum of 2-1/4" of the anchor is embedded into the concrete.Maximum Fixture ThicknessThe maximum fixture thickness or the maximum thickness of the material being fastened for a anchor is 2-3/4". This will ensure that the minimum embedment of 2-1/4" will be met.Fixture Hole DiameterThe hole in the fixture or material being fastened must be larger than the designated diameter of the anchor. The 1/2" diameter anchor requires the hole in the fixture to be 5/8".Torque ValueTo be set properly in the concrete, the anchor must be torqued to between ...
Brand: CONFAST
ASIN: B0723988J3
Part No: WA12512
M8 80mm Expansion Screw with Eye Ring Anchor Internal Eye Bolt Fastener 304 Stainless Steel 5 Pack (Ring Lifting Expansion Eyebolt M8
Concrete Anchor
5 Pack With Eye Ring Anchor Expansion Bolt M8* 80mm Specifications: Material: 304 stainless steel Thread diameter:8mm,length excluding ring: 80mm Package Weight: 383g Easy to install: Put the expansion screw into the ground or the hole on the wall and then tighten the nuts of the expansion bolt with wrench. The bolt goes outside while the metal sheath does not move. Thus the bigger head of the bolt will expand the metal sheath, making it fill the whole hole. Now, the expansion screw can not be pulled out. Widely used: Used in fence,burglarproof doors and window,canopy,air conditioning fixation,home decoration,engineering,etc. Package Including: 5 * expansion bolts with eye ring anchor
Color: Ring Lifting Expansion Eyebolt M8* 80mm
Brand: Renashed
ASIN: B07MTZVG2N
UPC: 793169740329
DEWALT DW5207 7-Piece Premium Percussion Masonry Drill Bit
Concrete Anchor
Color: Multi
Brand: DEWALT
ASIN: B00004RHBF
UPC: 787721788096
Part No: DW5207
Concrete Screw - RED Seal Moisture Barrier HIGH Performance Flat Head Concrete Screw Concrete Anchor 1/4" X 2-1/4" KIT Includes 12 Screws, 1 Drill BIT and 1 Driver
Concrete Anchor
Any time concrete comes in contact with water, it faces a life shortening processes. In cold climates, water that seeps into a drilled hole, can freeze and cause cracking. In warm climates, water inside a hole allows for mold to grow. Both situations can cause the screw to corrode, cracking, and ultimately premature failure of the structure.Most people assume that the screw itself forms a tight-impenetrable moisture barrier. The truth is, that without proper moisture protection, all concrete screws are subject to water damage. To correct for this issue, the best solution is to prevent water from entering altogether. Introducing Red Seal Concrete Moisture Barrier Protection Screws. Red Seal Concrete Screws are High Performance moisture barrier protection screws. They are the perfect solution for light duty concrete installation jobs such as installing electrical boxes, hose reels, or anywhere you are seeking to prolong the life of your concrete slab or structure. Each screw comes with a proprietary long-lasting silicon washer pre-installed that prevents moisture from entering. Use it in places where you want to keep moisture in or out. Each screw features the patented Stick-Tight drive system that allows for one-handed anti-wobble installation. The screw prevents moisture damage ...
Color: Gray
Brand: Phillips
ASIN: B07LB6MVXM
Part No: RS-FH-25X225
T.K.Excellent Phillips Pan Head Self Tapping Screws and Ribbed Anchors Assortment Screws
Concrete Anchor
INCLUDES: anchors:#6-#8,#10-#12,#12-#14, self tapping screws:#6x1",#10x1-1/2" INSTRUCTIONS: Drill hole with efficient dril bit. Clean the hole. Embed the anchor through the object to be fixed. Screw the anchors. PLEASE ATTENTION: Ribbed nylon(plastic) anchors work with various diameter sheet metal screws. Ideal for anchoring in concrete, brick or wallboard. The anchor is corrosion resistant. A pre drilled hole is required. Recommended for quick, easy fastening of fixtures in a variety of light duty applications. WARNING: Wear safety goggles.
Brand: T.K.Excellent
ASIN: B071VR4CMY
UPC: 652042411414
Part No: DS6688-010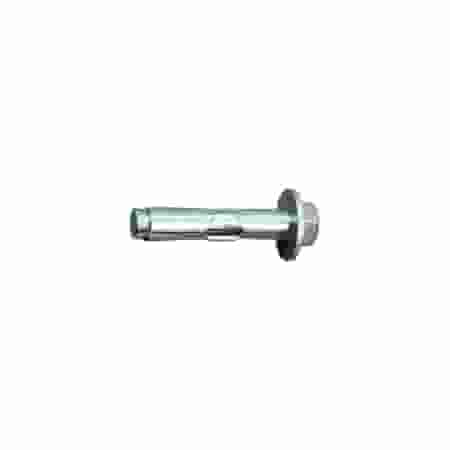 CRL Concrete Anchor for 3/4" Standoff
Concrete Anchor
Color: Stainless sOther
Size: 1/4"-20
Price: 1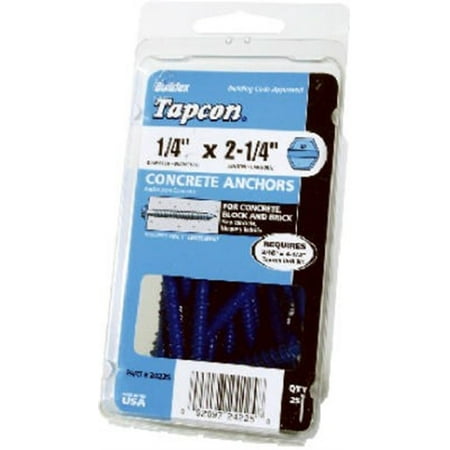 Itw Brands 24230 Hex-Washer Head Concrete Anchors, .25 x 2.75-In.,
Concrete Anchor
Model: 24230
Color: Multicolor
Price: 18
Concrete Anchor Video Results
How to Install Masonry & Concrete Anchors | Fasteners 101
Concrete Anchor
Want to know how to install concrete anchors? In this video we cover how wedge anchors, sleeve anchors, drop in anchors, and hammer drive anchors are installed in concrete, and how each type of anchor works. Video Sections: 1:19 - About Lag Shield Anchors (Link Below) 1:30 - What You Need for I...
Likes: 50
View count: 3523
Dislikes: 2
Comments:
A Beginner's Guide to Attaching Things to Concrete and Brick
Concrete Anchor
Learn how to install different types of anchors in concrete and brick, using a hammer drill. Strike anchor, concrete screws, drive anchor, and sleeve anchor Leah's Recommended Tools for Beginner DIY-ers: Power Tools: DeWalt 20V Lithium-Ion Brushless Compact Drill Driver: https://amzn.to/2LrHaC...
Likes: 10586
View count: 1623463
Dislikes: 516
Comments:
How to Install Concrete Wedge Anchors
Concrete Anchor
How to install concrete wedge anchors. http://www.confast.com/products/thunderstud-anchor.aspx
Likes: 1447
View count: 1394306
Dislikes: 344
Comments:
Globeiz.com is a participant in the Amazon Services LLC Associates Program, an affiliate advertising program designed to provide a means for sites to earn advertising fees by advertising and linking to Amazon.com. Amazon and the Amazon logo are trademarks of Amazon.com, Inc. or one of its affiliates