AcuRite 01535M 5-in-1 Weather Station with HD
Full Weather Station
AcuRite's Pro 5-in-1 Weather Station with HD Display delivers our most-advanced weather tracking capabilities, plus intuitively-presented information and insights to help you Plan Your Day with Confidence. This premium weather station uses AcuRite's proven 5-in-1 Weather Sensor. Easily installed in your back yard, it accurately tracks rainfall totals, wind direction and wind speed, outdoor temperature, and humidity. The stunning HD Weather Station Display offers built-in sensors that measure barometric pressure, temperature, and humidity for your exact location, offering a full picture of your indoor and outdoor environment. The display also offers dynamic graphics and the ability to toggle between easy-to-read dashboards that show you the current outdoor weather, indoor comfort, plus daily and monthly records. Additional features include programmable alarms that can be set to alert you when conditions reach preset thresholds and may require your attention. Examples can include excessively high or low temperature and/or humidity, rainfall, high wind, and more. This HD weather station is compatible with the AcuRite Lightning Detector Sensor (model 06045M, sold separately), which adds a lightning strike detector to your array of weather sensors. Limited one-year warranty. It's more...
Brand: AcuRite
ASIN: B0721JT8SJ
UPC: 072397015356
Part No: 01535M
AcuRite 02008A1 Color Weather Station with Forecast, Temperature, Humidity, Barometric Pressure, Intelli-Time Clock-Full
Full Weather Station
Get the weather forecast and temperature information to plan your day with confidence with AcuRite's color weather station. The weather station's illuminated color display features indoor and outdoor temperature and humidity, the weather forecast, an indoor humidity level indicator, barometric pressure with 12-hour history chart, Intelli-Time clock and date. Intelli-Time clock automatically updates itself for Daylight Saving Time. Humidity Level Icon easily conveys a low, high or ideal humidity level for your indoor environment and health. The digital weather station uses patented self-calibrating technology to provide your personal forecast of 12 to 24 hour weather conditions. Self-Calibrating forecasting is generated from weather data measured by a sensor in your yard - giving you the most accurate forecast available for your exact location. Display stands upright for tabletop use or is wall-mountable. The color display features adjustable brightness settings. Display measures 9.8-inches tall, 7.5-inches wide and 1.3-inches deep. Outdoor conditions are updated every 16 seconds and indoor conditions every 60 seconds. Display is electric-powered by power adapter (included). Insert 3 x AA batteries (not included) for optional backup in the event of a power outage. The outdoor sens...
Brand: AcuRite
ASIN: B00VSBOKRY
UPC: 794628323701
Part No: 02008A1
AcuRite 01009M Atlas Weather Station with High Definition Touchscreen
Full Weather Station
Monitor hyperlocal weather conditions in your own backyard anytime from anywhere with AcuRite atlas, keeping you connected to the things that matter most. The outdoor sensor has an easy, tool-free installation and transmits measurements up to 330 feet (100 meters). more accurate and reliable than weather reports from across town, you can see current conditions at a glance with the colorful indoor HD display. Better understand weather trends with the display to easily view charts and records, and set custom alarms to notify you when weather conditions change, such as high wind speeds. To keep detailed records and analyze long term weather patterns, you can Optionally add an SD card (32GB max, not included) to automatically Log your weather data. AcuRite atlas is expandable, and can be connected to my AcuRite to allow you to connect to your home hyperlocal outdoor environment from anywhere (AcuRite access required, sold separately). you can also add the ability to detect the presence of potentially dangerous lightning within 25 miles (40 kilometers) by adding the lightning Detection sensor (sold separately). the future of weather monitoring. Hyperlocal. Smart. Connected.
Brand: AcuRite
ASIN: B074XK7GRQ
Part No: 01009M
AcuRite 01022M Pro Station with Lightning, Rain, Wind, Temperature, Humidity and Weather Ticker,
Full Weather Station
Stay up-to-date on weather conditions at your location with the AcuRite weather station with color display, high-precision 5-in-1 sensor and lightning detector. The weather station tracks a comprehensive list of weather data, including lightning strikes within 25 miles (40 kilometers), temperature (degrees Fahrenheit and Celsius), humidity (percent rh), wind Speed (mph, kmh or knots), wind direction (with a 16-point wind Rose), barometric pressure, heat index, wind chill, dew point, daily and all-time high and low records, as well as the time and date (month/day). the weather Ticker on the display streams real-time information and alerts for weather conditions. You can also set programmable weather alarms for temperature, humidity, barometric pressure, wind Speed, rainfall, heat index, dew point, and wind chill. The weather station's color display features auto-dimming brightness, has a convenient tabletop stand and can be mounted to a wall. It records historical data including current, weekly, monthly and yearly lightning strike counts (miles or kilometers), average wind Speed (at 1, 2, 5, 10 and 15-minute intervals) as well as historical rainfall records (inches or millimeters) for the previous 48 hours, 7 days, month, and year. The display also features AcuRite patented Self-C...
Color: Lightning Detection
Brand: AcuRite
ASIN: B01MEFGGMF
UPC: 072397010221
Part No: 01022M
AcuRite 01536 Wireless Weather Station with PC Connect, 5-in-1 Weather Sensor and My AcuRite Remote Monitoring Weather
Full Weather Station
The AcuRite 5-in-1 Professional Weather Station with PC Connect and Weather Ticker includes a color weather station display for 5-in-1 weather sensor data and a 5-in-1 weather sensor. This full-featured professional weather station lets you reliably measure temperature, humidity, rain, wind speed, and wind direction. The AcuRite exclusive Weather Ticker streams real-time information and alerts, at a glance. This weather station with USB also plugs into your Windows computer to store, track, and analyze your weather history information. PC Connect also lets you conveniently view your weather sensors from virtually anywhere on a smartphone, tablet, or computer using the My AcuRite app, set custom email and phone alerts to keep you informed if conditions require your attention, and easily share your weather station data with weather communities like weather underground. Limited one-year warranty. It's more than accurate, it's AcuRite.
Color: Off White Sensor / Color Display
Brand: AcuRite
ASIN: B06XNPKKNZ
UPC: 072397015363
Part No: 01536M
La Crosse Technology 308-1414B-INT 308-1414B Wireless Atomic Digital Color Forecast Station with Alerts,
Full Weather Station
Full color display gives you current temperatures & humidity, with a future forecast whether it could be sunny or rainy to snowy. Features accurate, self-set atomic time & date with automatic DST updates. Records min/max values and alerts you of extreme temperatures. Also displays your heat index and dew point. Will indicate of low battery and reception strength. Batteries required (not included.).Weather Station Factory Restart Explanation: The factory restart returns the weather station and outdoor sensor to an "out-of-the-box" default state and often resolves an issue. Factory Restart: 1. Remove all power (batteries and AC) from outdoor sensor and weather station. 2. Press one of the buttons on the weather station at least 20 times to clear all memory. 3. Verify that the weather station is blank before proceeding (there may be lines painted on the screen that will show when there is no power). 4. Leave both units without power for 15 minutes (very important). 5. Insert the AC power cord into the wall outlet then into the weather station. 6. Insert fresh batteries into the outdoor sensor. 7. Press the TX button on the outdoor sensor to transmit RF signal. 8. Keep the outdoor sensor 5-10 feet from the weather station. 9. When RF connection is established, the temperature wil...
Color: Black
Brand: La Crosse Technology
ASIN: B00MUOIQ8W
UPC: 757456083278
Part No: 308-1414B-INT
Davis Instruments 6250 Vantage Vue Wireless Weather Station with LCD
Full Weather Station
Color: white
Brand: Davis Instruments
ASIN: B002LLVFK0
UPC: 684402978251
Part No: 6250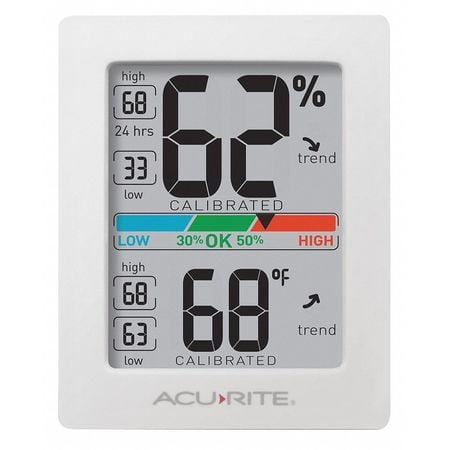 ACURITE 01083M Weather Station,0 to 99.99" Rain
Full Weather Station
Model: 01083M
Color: Multicolor
Rating: 5.0
Price: 15 51
AcuRite 01528 Wireless Weather Station with 5-in-1 Sensor: Temperature and Humidity Gauge, Rain Gauge, Wind Speed and Wind
Full Weather Station
Model: 01528M
Color: Black
Size: 5.60" W x 10.80" H x 13.75" D
Rating: 4.729
Price: 109 149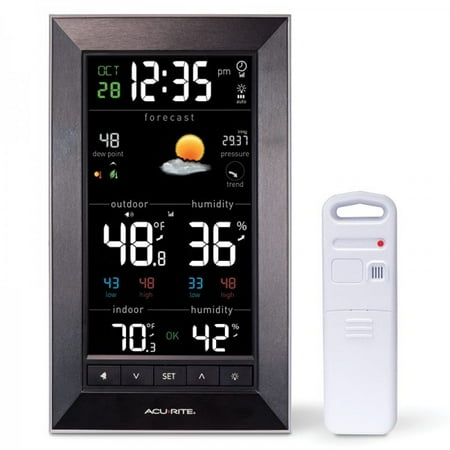 AcuRite 01121M Vertical Wireless Color Weather Station with Temperature
Full Weather Station
Model: 01121M
Rating: 3.75
Price: 29 34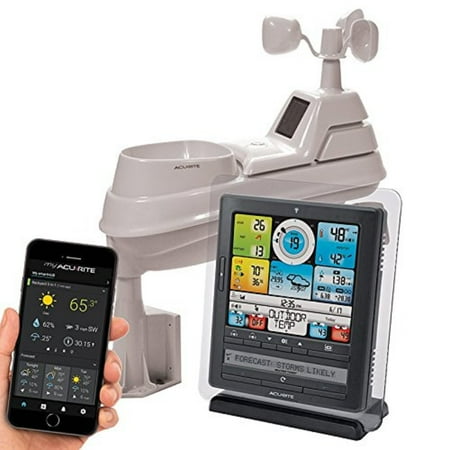 AcuRite 01036M Wireless Weather Station with Programmable Alarms, PC Connect, 5-in-1 Weather Sensor and My Remote Monitoring Weather
Full Weather Station
Model: 01036M
Color: Black
Size: NO SIZE
Rating: 4.346
Price: 119 129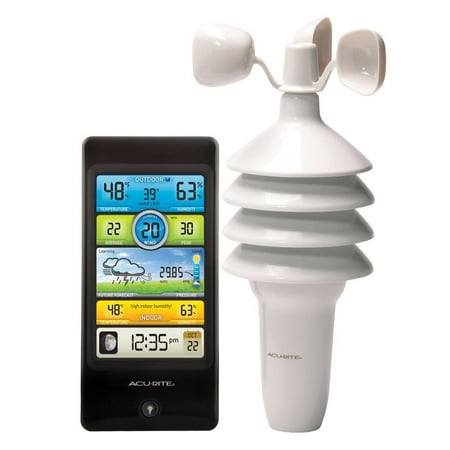 AcuRite 01604 Pro Color Weather Station with Wind
Full Weather Station
Model: 01604CH
Color: Black
Rating: 4.059
Price: 70 99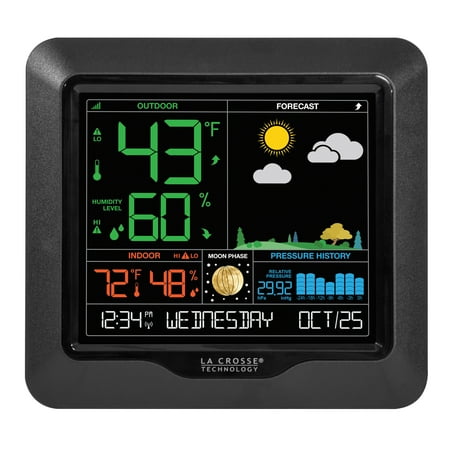 La Crosse Technology S84107 Wireless Color Forecast Station with Barometric Pressure Historical
Full Weather Station
Model: S84107
Color: Black
Rating: 4.169
Price: 29 65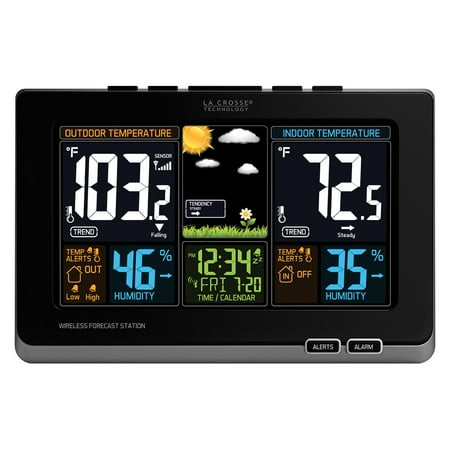 La Crosse Technology 308-1414B Wireless Atomic Digital Color Forecast Station with
Full Weather Station
Model: 308-1414B
Color: Black
Size: AA/AAA
Rating: 4.472
Price: 36 53
Full Weather Station Video Results
How to Choose a Home Weather Station
Full Weather Station
Watch the full episode: http://www.thisoldhouse.com/toh/tv/ask-toh/video/0,,20999909,00.html The Weather Channel's Jim Cantore explains the importance of a weather station to Ask This Old House host Kevin O'Connor. (See below for a shopping list and steps.) Click here to SUBSCRIBE to the offici...
Likes: 335
View count: 60493
Dislikes: 41
Comments:
Ambient Weather WS-2902 Osprey Review: Best Value For Money Home Weather Station?
Full Weather Station
The Ambient Weather WS-2902 Osprey home weather station provides the best value for money compared to any other model on the market right now. Check the price on Amazon here: https://amzn.to/2IU2gDH The Ambient Weather WS-2902 Osprey Solar Powered WiFi 10-in-1 home weather station is the perfect...
Likes: 303
View count: 30473
Dislikes: 13
Comments:
Backyard Weather Station Setup and Review NEW AcuRite Atlas
Full Weather Station
How to set up your backyard weather station, the AcuRite Atlas Weather Station is my newest and best outdoor sensor and indoor display. I keep chickens and honeybees and knowing the weather conditions is critical to my operations here. I review the features, set the unit up, install and test th...
Likes: 187
View count: 13319
Dislikes: 7
Comments:
Globeiz.com is a participant in the Amazon Services LLC Associates Program, an affiliate advertising program designed to provide a means for sites to earn advertising fees by advertising and linking to Amazon.com. Amazon and the Amazon logo are trademarks of Amazon.com, Inc. or one of its affiliates