Rain Bird SST600IN Irrigation Timer Indoor
Irrigation Timer
Rain Bird SST600IN Simple-To-Set Indoor Sprinkler/Irrigation System Timer/Controller, 6-Zone/Station. Rain Bird introduces the new "SST600IN" Timer packed with enhanced features and programming options (this new/improved model replaces SST600I). This indoor-mounted timer is so easy to use you won't need the instructions!! Intuitive, simple zone-by-zone settings allow different watering schedules for each area of your yard; providing greener results with less water. Controls up to 6-valves with watering times from 0-240 minutes per zone. Simply turn the dial to each zone to quickly and easily set: custom days of the week, odd or even days, or a cycle number of days independent of all other zones. Programs up to four custom watering times per day to correctly water slopes and clay soils in short intervals allowing water to soak in and avoid runoff. Quickly review all settings with the LCD screen and easy to read LED indicator lights. Additional Features: "Seasonal Adjust" allows increase in watering time up to +100% in hot/dry months or reduce in cool/rainy periods to as little as -90%. "Rain Delay" suspends watering for up to 72-hours; resetting automatically once delay ends. "Water 1 Zone Now" button waters a single zone for up to 180 minutes. "Water All Zones Now" button water...
Brand: Rain Bird
ASIN: B071D7TSRH
UPC: 077985004651
Part No: SST600in
Orbit 57946 B-hyve Smart Indoor/Outdoor 6-Station WiFi Sprinkler System Controller, Compatible with
Irrigation Timer
Adding to their legacy of top-of-line sprinkler timers, Orbit is pleased to announce the addition of their most intuitive, feature-rich timer to date. The Orbit B-hyve Smart WiFi Sprinkler Controller is made in the USA with global materials. The perfect timer for new installations or for replacement, it is available in both 6 and 12 station models with indoor/outdoor-rated locking cabinet. Control it with an Android or iOS device, computer, or at the timer with the super-intuitive interface millions of customers know and love. WaterSense and SWAT labeling provide assurance that B-hyve uses advanced weather data to deliver just the right amount of water to plants and turf, and postpones watering whenever rain is in the forecast. The Orbit B-hyve Smart WiFi Sprinkler Controller makes saving water, time and money easier than ever.
Color: , Compatible with Alexa
Brand: Orbit
ASIN: B01D15HOIQ
UPC: 046878579460
Part No: 57946
Orbit 57894 4-Station Outdoor Swing Panel Sprinkler System
Irrigation Timer
The Orbit swing door timer comes in a weatherproof cabinet with internal transformer for easy indoor or outdoor plug-and-go installation. Easy-Set Logic provides for headache-free programming. Saves water in drought conditions.
Color: Green
Brand: Orbit
ASIN: B003LY4I0U
UPC: 046878578944
Part No: 57894
Rachio Smart Sprinkler Controller, 8 Zone 2nd Generation, Works with Amazon
Irrigation Timer
Take the guesswork out of watering with a Rachio Smart Sprinkler Controller. The easy-to-use mobile app lets you manage your sprinklers without running back and forth to the controller, while automatic weather adjustments mean no more watering in the rain. Get peace of mind - Rachio knows just how much water your yard needs. Control your sprinklers using a smartphone or with category-leading smart home integrations, including Amazon Alexa and more. Master Valve-Compatible with master valve, pump relay, or indexing valve. Wi-Fi Connection - Wi-Fi (2.4GHz) required. Supports dedicated 2.4GHz and dual-band networks. Cannot operate on 5 GHz only networks. Sensors Rain Sensor - Wired & Wireless Normally Closed (NC) sensors, Soil Sensor - Wired & Wireless Normally Closed (NC) sensors, Wired Flow Sensors
Color: Whiter
Brand: Rachio
ASIN: B01D1NMLJU
UPC: 680140538825
Part No: 8ZULW-B
VALINKS Irrigation System with Digital Timer, 33ft Automatic Garden Irrigation System, 0.25 inches Blank Distribution Tubing Hose for Garden, Greenhouse, Flower Bed, Patio,
Irrigation Timer
VAlinks Garden Irrigation System with Digital Timer, Automatic Garden Watering Set Drip Irrigation Kits, 0.25 inch Blank Distribution Tubing Hose for Garden, Greenhouse, Flower Bed, Patio, Lawn
Color: AT-2
Brand: VALINKS
ASIN: B07RNQCGND
Melnor 53280 4-Outlet Digital Water Timer Simple and Flexible Programming, 4 Zone, 4
Irrigation Timer
Get the ultimate in flexibility with the Melnor hydrologic four zone water timer. Water four areas with One faucet. The ability to schedule zones allows you the convenience to water The lawn once a week, The garden daily, & Newly planted flowers more often. It's perfect for mixed plantings.
Color: 4 Zone
Brand: Melnor
ASIN: B01E0LONN4
UPC: 042206532800
Part No: 53280
Instapark PWT-07 Outdoor Waterproof Digital Programmable Single Outlet Automatic On Off Water Faucet Hose Timer with Rain Delay and Manual
Irrigation Timer
Powered by 2 AA alkaline batteries (NOT included), Instapark PWT-07 is a digital programmable watering timer that attaches to any garden outdoor hose faucet with a standard ¾" (GHS) thread, suitable for irrigation/home use. Featuring a single oversized rotary dial, 4 self-explanatory pushbuttons, and a large easy-to-read LCD display with a user-friendly interface. Simply set the current time, choose your desired watering duration up to 6 hours and start time, select water frequency amongst 16 different settings from every 10 seconds to once a week. Also has a built in rain delay and manual control without interrupting the timer's program. Made of strong, weather-resistant, quality ABS materials and a waterproof rating of IP66. These features include anti-slip grip, dust cover for the LED display and a detachable battery compartment. The Instapark PWT-07 is backed up by a standard 1-year manufacturer's warranty. Specifications: Power source: 1.5V AA x 2 (Alkaline batteries only, NOT included) Valve type: Impulse solenoid valve Working water pressure: 14.5 to 116 psi Standby current: < 100 μA Watering frequency settings: 10s, 30s, 1m, 3m, 5m, 1h, 2h, 4h, 12h, 1d, 2d, 3d, 4d, 5d, 6d, 7d Watering duration settings: 5s, 10s, 15s, 20s, 25s, 30s, 35s, 40s, 45s, 50s, 55s, 1-360m Tim...
Color: Green
Brand: Instapark
ASIN: B01M676JAS
UPC: 615564719642
Part No: PWT-07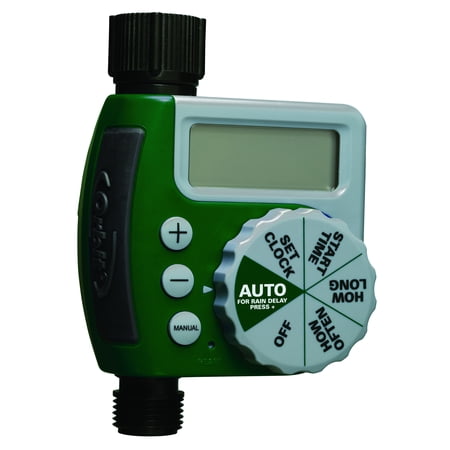 Orbit LCD Single Port Hose Faucet
Irrigation Timer
Model: 56158
Rating: 4.345
Price: 24 28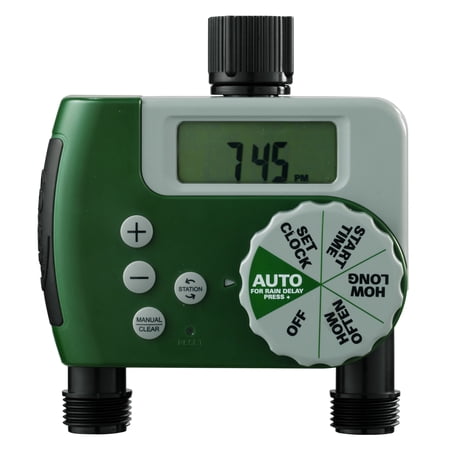 Orbit 56503 LCD 2-Port Digital Hose Faucet
Irrigation Timer
Model: 56503
Rating: 4.127
Price: 38 39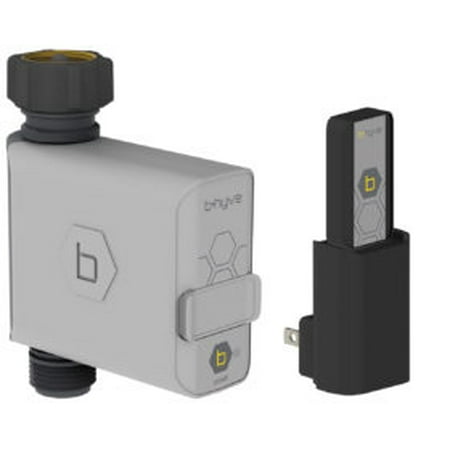 Orbit 21005 B-Hyve Bluetooth Hose Faucet
Irrigation Timer
Model: 21005
Color: Multicolor
Size: 1
Rating: 3.0
Price: 39 49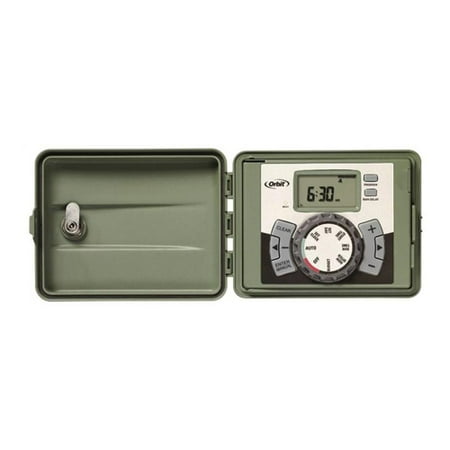 ORBIT IRRIGATION PRODUCTS 57896 TIMER SPRINKLER 6
Irrigation Timer
Model: 57896
Color: Multicolor
Size: EA
Rating: 5.0
Price: 49 49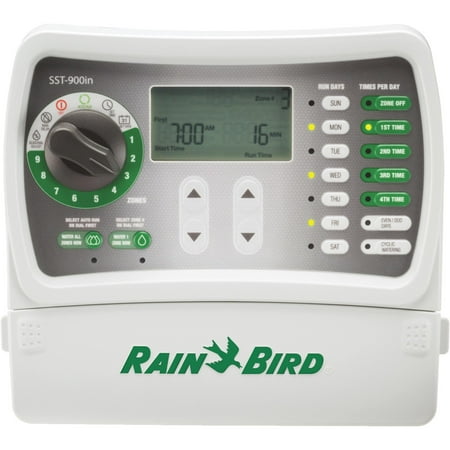 Rain Bird SST900I 9 Zone Irrigation/Sprinkler
Irrigation Timer
Model: SST-900I
Color: Multicolor
Size: Water Timers
Rating: 4.2
Price: 73 124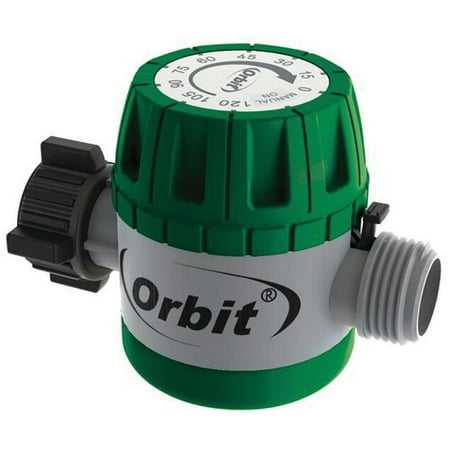 Orbit 62034 Mechanical Watering
Irrigation Timer
Model: 62034
Color: Green
Size: Water Timers
Rating: 4.25
Price: 10 10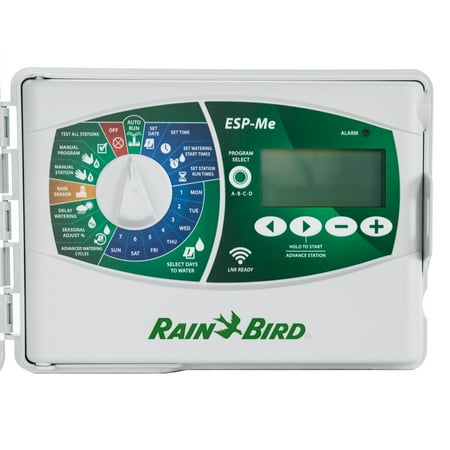 Rain Bird Smart WIFI 10 Station Irrigation Sprinkler System Controller
Irrigation Timer
Model: ESP10MEI
Color: White
Rating: 5.0
Price: 121 184
Irrigation Timer Video Results
The Best Irrigation Timer on the Market - Orbit Single Outlet Timer
Irrigation Timer
The best garden scale irrigation timer on the market - easy to use, cheap, and durable. Orbit Single Outlet Programmable Hose Faucet Timer: http://amzn.to/2sVv1bi I am a podcaster who is starting to put videos out on YouTube. While I have made hundreds of podcasts, I have done very little with...
Likes: 217
View count: 20807
Dislikes: 14
Comments:
Orbit Digital Timer Garden Hose - Land To House
Irrigation Timer
If you need to turn on your water when you are gone or asleep then I would recommend this Orbit Digital Timer. Very easy to set and works well. Battery lasts a long long time. Get this timer on Amazon: http://goo.gl/rRdrDj Visit my Amazon Store: http://astore.amazon.com/latoho-20 Check out th...
Likes: 1434
View count: 127737
Dislikes: 52
Comments:
Digital Irrigation Timer Testing
Irrigation Timer
Automatic digital watering timer settings irrigation system for plants and gardening. This is not a sponsored video. Thanks for watching :) Watch my other video: Creating A Simple Drip Irrigation System from Plastic Bottle - https://youtu.be/sSgwivCXL3o Subscribe to my channel: https://www.yo...
Likes: 64
View count: 13442
Dislikes: 10
Comments:
Globeiz.com is a participant in the Amazon Services LLC Associates Program, an affiliate advertising program designed to provide a means for sites to earn advertising fees by advertising and linking to Amazon.com. Amazon and the Amazon logo are trademarks of Amazon.com, Inc. or one of its affiliates