Scotts 30158 Turf Builder Thick'R Lawn Sun and Shade, 40
Lawn Seed
Scotts Turf Builder THICK'R Lawn Sun and Shade has everything you need to help turn weak, thin grass into a thick, green lawn. With this 3-in-1 solution get up to a 50% thicker lawn with just one application (subject to proper care), guaranteed! THICK'R Lawn contains soil improver for enhanced root development, seed to fill gaps with new grass, and fertilizer to feed new grass and thicken and green existing turf. This product is intended for use on an entire lawn and can be applied easily with a Scotts spreader. Results may vary based on current condition of lawn.
Color: Plain
Brand: Scotts
ASIN: B074P1578H
Part No: 30158
Scotts EZ Seed 17540 Sun Shade 10
Lawn Seed
Scotts EZ Seed Patch & Repair Sun and Shade is a revolutionary seeding mix that guarantees seeding success! The unique combination of Scotts high performance seed, premium continuous release lawn food, and Scotts super-absorbent growing material, make it possible for grass to grow anywhere, guaranteed! (Subject to proper care) Scotts EZ Seed now has a tackifier to reduce seed wash away on sloped areas of your lawn!
Brand: Scotts
ASIN: B0168K92U4
UPC: 032247175401
Part No: 17540
Scotts Turf Builder Clover
Lawn Seed
Clover is an important part of having a green, Low maintenance lawn that doesn't need a lot of water. Clover's deep roots help your lawn stay greener, longer during short-term drought conditions & requires less frequent watering than some traditional grasses. Clover also self-fertilizer when you return the Clover clippings to the Lawn after mowing – meaning less work for you! Scotts turf Builder Clover lawn is specially formulated with strawberry Clover to establish fast & help your lawn thrive.
Color: Brown/A
Brand: Scotts
ASIN: B07J5H12CH
UPC: 032247180139
Part No: 18013A
Perennial Ryegrass Seed Blend (500 sq
Lawn Seed
This blend of 100% turf-type perennial ryegrass Seed is the fastest establishing grass available. it provides a quick, lush lawn in northern States or can be over seeded into warm-season grasses for wintertime green in southern States. Don't have time to wait for a Bluegrass lawn to establish? looking for a type of grass that will grow a beautiful lawn in only a fraction of the time of traditional lawn grass? wait no longer. Our perennial ryegrass Seed blend is the fastest establishing mix available. This blend contains three types of 100% premium 'golf-grade' perennial ryegrass Seed, providing uniform color, growth and texture. By combining three types of premium Seed you also get a grass highly resistant to disease and very tolerant of salt. This makes perennial ryegrass ideal for use along roads, sidewalks and driveways where salt accumulates from winter ice removal. Lawns grown from perennial ryegrass are also used in areas such as athletic and sports fields, golf courses, campuses and homes. Great lakes/new England region, great plains region, mid-west/mid-Atlantic region, Pacific northwest region, Pacific Southwest region, south-Atlantic transitional region, southern subtropics region, Southwest Desert region, Southwest semi-arid steppe region, Southwest transitional region...
Color: Eco Region
Brand: Nature's Seed
ASIN: B01DO2WQ1G
Part No: TURF-LOPE-500-F
Hydro Mousse Liquid Lawn System - Grow Grass Where You Spray It - Made in
Lawn Seed
Hydro Mousse Liquid Lawn is the revolutionary way of growing beautiful grass. It does not involve professional lawn care, or paying hundreds of dollars. It is easy to use. If you can water your lawn, then you can also use Hydro Mousse Liquid Lawn w/Spray n Stay technology. It will show you the exact areas where you are planting eliminating the guesswork. Its high quality seed mixture blend that will work perfectly with your existing lawn. The grass can grow on vertical areas and can survive extreme heat or cold conditions. A beautiful and professional looking lawn has never been easier to come by. (subject to proper care) DIRECTIONS ON HOW TO USE HYDRO MOUSSE: Step 1: PREPARE THE AREA BEFORE PLANTING Remove debris, dead grass, lossen top layer of soil, moisten with water Step 2: PRACTICE MAKES PERFECT With an EMPTY canister, connect the nozzle to the canister and your garden hose and simply water your lawn to get a feel of how Hydro Mousse canister works. Step 3: KNOW YOUR COVERAGE AREA The Hydro Mousse System comes with enough seed and additive to treat 100 square feet; that is a 10 foot by 10 foot area. Step 4: PLANTING TIME Pour the entire bag of grass seed and mousse additive into the canister. With the dial in the off position, connect the hose and turn on the water. Turn ...
Color: Green
Brand: Hydro Mousse
ASIN: B00LMFJ8KA
UPC: 185623000689
Part No: 15000-6
Pennington 100526675 Smart Seed Tall Fescue Grass Seed, 3
Lawn Seed
Enjoy a resilient, durable, dark green lawn You can be proud of with Pennington Smart seed tall Fescue. This premium cool-season blend of Turf-Type tall Fescue varieties brings your lawn improved resistance to heat, cold, shade, drought & disease. Suited to a wide range of climates, including the challenging transition zone, this tall Fescue blend is ideal for lawns that receive four to eight hours of daily sun.
Color: Green
Brand: Pennington
ASIN: B07M7L9M44
UPC: 021496017167
Part No: 100526675
Scotts EZ Seed Sun & Shade 20
Lawn Seed
Scotts EZ Seed Sun & Shade Grows anywhere! Guaranteed! With new and improved formula that helps reduce seed wash-away. For sunny, densely shaded, or high traffic areas.
Brand: Scotts
ASIN: B0168K96FK
UPC: 032247175043
Part No: 17504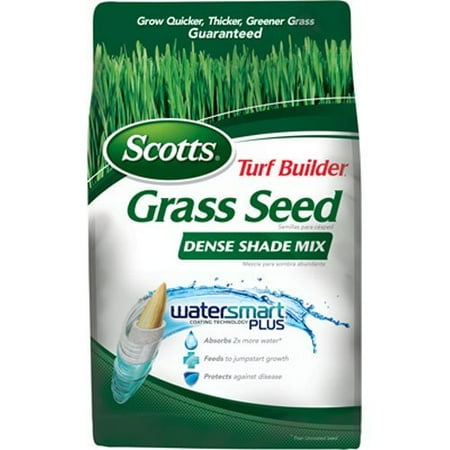 Scotts 18348 Turf Builder Dense Shade Grass Seed Mix Bag, 3-Pound (Not for sale in
Lawn Seed
Model: RQ-2
Color: N/AOther
Size: 33 lbs
Rating: 4.126
Price: 16 16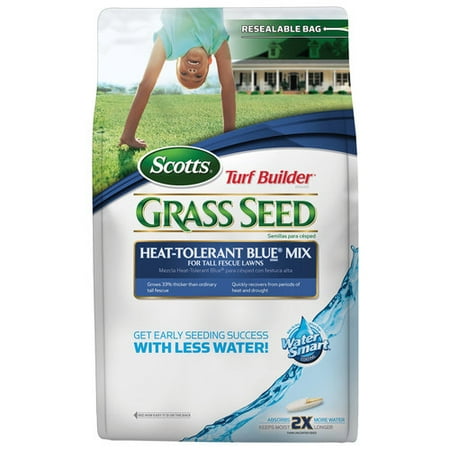 Scotts Turf Builder Grass Seed Heat-Tolerant Blue Mix For Tall Fescue Lawns, 3
Lawn Seed
Model: 18196PM
Color: Multicolor
Size: 33 lbs
Rating: 4.422
Price: 7 16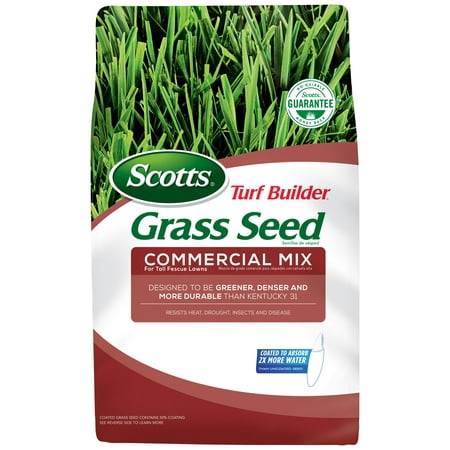 Scotts Turf Builder Grass Seed Commercial Mix for Tall Fescue Lawns (South) 7-lbs, 1750 sq.
Lawn Seed
The Dirty Gardener Sun and Shade Supreme Lawn Seed Mixture, 200 Square
Lawn Seed
Rating: 4.0
Price: 3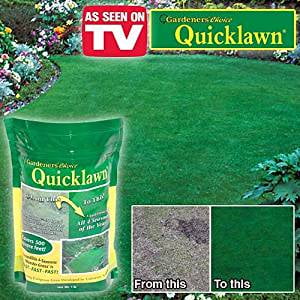 Gardener's Choice Quicklawn Lawn Seed- 1 Lb Bag (500 Sq.
Lawn Seed
Model: Gardeners Choice
Color: Green
Rating: 3.0
Price: 9 12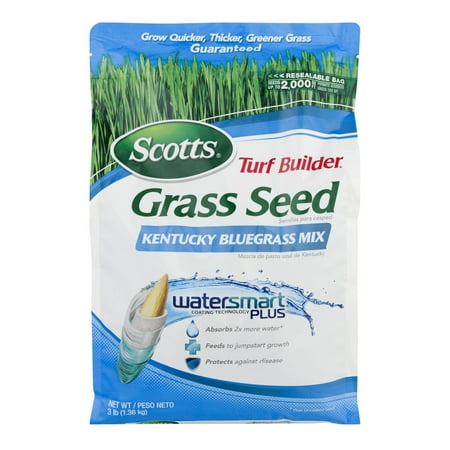 Scotts Turf Builder Kentucky Bluegrass Mix, 3
Lawn Seed
Model: 18266PM
Color: Multicolor
Size: 33 lbs
Rating: 4.219
Price: 23 14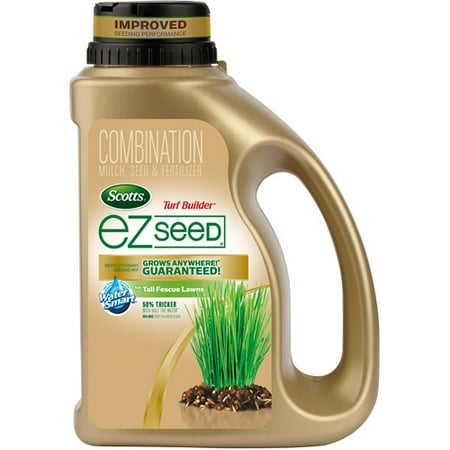 ***FASTTRACK***Scotts EZ Seed Tall Fescue Lawns 3.75
Lawn Seed
Model: 17511PM
Color: MulticolorMulti
Size: 3.75 lbs3.75
Rating: 4.091
Price: 9 16
Lawn Seed Video Results
How to Plant a yard and grass seed like a pro - Grow a new lawn, overseeding, yard & sod care tips
Lawn Seed
How to plant a new lawn, grow grass seed, overseed an existing lawn Repair bare spots, sod care tips, lawn & yard care, seeding a new lawn More info here: Heres the best prices on Some of my favorite Amazon tools: Dewalt concrete saw: https://amzn.to/2FsxsNE Fiskars axe: https://amzn.to/2DIs...
Likes: 11637
View count: 723124
Dislikes: 320
Comments:
How To Seed a Lawn - Complete Step By Step Guide
Lawn Seed
I packed a lot into this one video but here's my complete step by step guide on how to seed a lawn. Topics covered here are Tenacity herbicide, seeding and raking in seed, rolling in seed, starter fertilizer, and top dressing with peat moss. https://www.youtube.com/results?search_query=%23lawnre...
Likes:
View count: 66688
Dislikes:
Comments:
10 Best Grass Seed 2019
Lawn Seed
UPDATED RANKING ►► https://wiki.ezvid.com/best-grass-seed Disclaimer: These choices may be out of date. You need to go to wiki.ezvid.com to see the most recent updates to the list. Our complete review, including our selection for the year's best grass seed, is exclusively available on Ezvid Wik...
Likes: 36
View count: 6858
Dislikes: 4
Comments:
Globeiz.com is a participant in the Amazon Services LLC Associates Program, an affiliate advertising program designed to provide a means for sites to earn advertising fees by advertising and linking to Amazon.com. Amazon and the Amazon logo are trademarks of Amazon.com, Inc. or one of its affiliates