Neewer Large Photo Studio Lighting Equipment Carrying Bag 41.3x9.84x9.84inches with Shoulder Strap and Handle for Light Stand, Tripod, Umbrella, Monolight, LED Light and Other Accessories
Lighting Carrying Bag
Note: The lights and stands are NOT included. Description: With a classical design but never go out of style. The durable lighting kit bag can effectively hold multiple equipment. There is a pouch outside to carry some other accessories for outdoor photography, such as batteries, lens and so on. It has double zippers and straps surrounded to protect your equipment from being damaged. The shoulder strap makes it more convenient when you are out and on your way. Light weight and foldable, includes padded compartments and dividers inside. Specification: Dimension: 41.3x9.84x9.84inches/105x25x25 centimeters Material: Cordura Webbed Nylon Color: Blue Package Contents: 1 x Carrying Bag for Studio Kit
Brand: Neewer
ASIN: B077R1XZTC
UPC: 191073031173
Part No: 10092352
Neewer 30inchx10inchx10inch/77cmx25cmx25cm Photo Video Studio Kit Large Carrying Bag for Light Stand
Lighting Carrying Bag
This bag makes it possible to pack up your studio equipments anytime, anywhere. Easy to transport light stand,tripods,backdrops,reflectors,umbrella,softbox,flash strobe lighting kit and other accessories. This zipper bag is made of a very durable material Foldable and has padded compartments,which keep all your gears safe while taking your photography or video studio on the go. The extra side pocket can be used for cables, batteries and other gadgets. Specification: Size: 30″x10″x10″/77cmx25cmx25cm Material: Cordura webbed nylon Color: Black Package Content: 1 x Carrying Bag for Studio Kit
Color: Black+Red
Brand: Neewer
ASIN: B004BR6HGY
UPC: 846619074977
Part No: 10000180
Neewer 35"x10"x10"/90 x 25 x 25 cm Photo Studio Equipment Large Carrying Bag with Strap for Tripod Light Stand and Photography Lighting
Lighting Carrying Bag
Note:The Bag is empty.Description:It has padded compartments,which keep all your gears safe while taking your photography or video studio on the go.This will ensure your tripod or studio kit when not in use is properly protected from dirt,moisture,dust and damage.The extra side pocket can be used for cables, batteries and other gadgets.Designed to carry light heads,light stands,cables and accessories.The shoulder strap makes it more convenient when you are out and on your way.Comfortable for shoulder,easy to carryWith a classical design but never go out of style.Specification:Material:Cordura webbed nylonSize:35"x10"x10"/90x25x25 cmColor:BlackPackage Contents:1 x Bag for studio kit
Color: 35"x10"x10"
Brand: Neewer
ASIN: B01AU96HI4
UPC: 808018133259
Part No: 10086409
Fovitec - 1x Classic Photography & Video Lighting Equipment Roller Bag - [40" x 13" x 15"][EZ Glide Wheels][Durable Nylon][Retractable
Lighting Carrying Bag
Product OverviewRoll the bag to your destination on the easy glide rubber wheels, which reduce bumps for smooth mobility and light travel. Roll the bag with the top handle, or carry it using the side soft handles. Durable plastic corners and supports provide extra exterior protection for your gear inside. This bag is ideal for photographers and videographers looking for a compact yet capable travel roller bag designed to fit travel LED panels like the 650 and everything that comes along with them.Technical SpecificationsMaterials: webbed nylon (exterior), fleece (interior)Exterior Dimensions: 40" x 13" x 15"Interior Dimensions: 36" x 10" x 12"Easy glide rubber wheelsAdjustable padded dividersSoft ergonomic handles and durable plastic top handleReinforced structureIdeal for light travel and storageBox Contents1x roller bag w/ tote handle2x big dividers2x small dividers
Color: Black Classic Roller Bag
Brand: Fovitec
ASIN: B00JORVJUK
UPC: 811026024495
Part No: SP60-006
Emart Light Stand 8.5ft, Dual Spring Cushioned Adjustable Photo Video Lighting Stand, Heavy Duty Aluminum Construction with Carrying Bag for Photography and Studio Equipment (2
Lighting Carrying Bag
Emart light stand set of two black light stands are economical light stands. This is heavy duty, all metal construction, with spring cushioning. Easy to install. They are spring loaded and prevent from slamming down ,when you loosen the height adjustment.The tripods are long, but it can be adjusted to limit space. Very compact, which makes it easy to take for travelling. The zipper bag is perfect and easy to use and store with storing pouch included. Specifications: (1)8.5ft Adjustable Light Stand Material: All aluminum construction Maximum Height: 102.4'' Minimum Height: 37.8'' Closed Length: 37.8'' Weight: 4.2 lbs Footprint: 43.3'' Maximum Load: 60 lbs Spring Cushioned Segments: 3 (2)Carrying Bag Durable zipper Foldable material Easy to carry
Brand: EMART
ASIN: B074R8T5TY
UPC: 710280605498
Part No: EM-K726A-2
Fovitec - 1x Photography Studio Lighting Equipment Bag - [30" x 12" x10"][Lightweight][Heavy Duty Durable Nylon][Dual
Lighting Carrying Bag
The Fovitec large size bag for complete kit is a large 30"x12"10" duffle style bag that is great for transporting any combination of lights and accessories. It is padded on all sides to protect your light stands, bulbs, lights, and other gear. It is large enough to fit a complete kit while still being convenient enough to carry your photography or video studio on the go.
Color: Black
Brand: Fovitec
ASIN: B00K6R5YNA
UPC: 811026025249
Part No: SP60-004
Fovitec - 1x Photography & Video Lighting Equipment Carrying Case - [30" x 8" x 6"][Lightweight][Heavy Duty Durable Nylon][Dual
Lighting Carrying Bag
Product Overview: The Fovitec lighting equipment carrying bag is the ideal case for your traveling lighting studio. This zippered bag is great for transporting light stands, umbrellas, and other accessories. This zipper bag is made of a durable material, is light weight, and very convenient to carry. This bag makes it possible to pack up your studio anytime, anywhere. The foam padded walls help protect your equipment from becoming damage. Technical Specs: Material: Nylon Dimensions: 30in x 8in x 6in Box Contents: 1x carrying bag
Color: Black
Brand: Fovitec
ASIN: B00HERQV5K
UPC: 811026024402
Part No: SP60-002
Premium Waterproof Sports Swimming Lightning Carrying Case Bag for Microsoft Lumia 435 (with Lanyard) (Light Blue) + MYNETDEALS Mini Touch Screen
Lighting Carrying Bag
Color: Light BlueBlue
Price: 14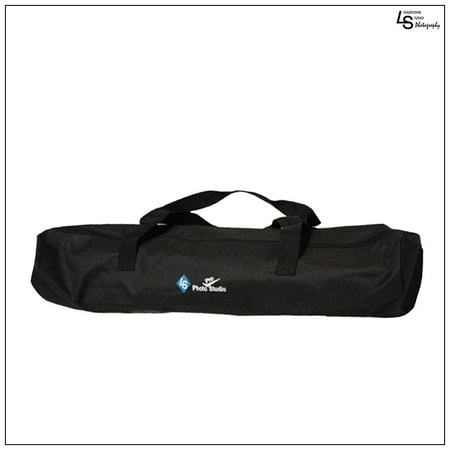 Zipper Travel Carrying Bag for Photo Video Umbrella, Light Stands, and Accessories by Loadstone Equipment
Lighting Carrying Bag
Model: WMLS0185
Price: 18 32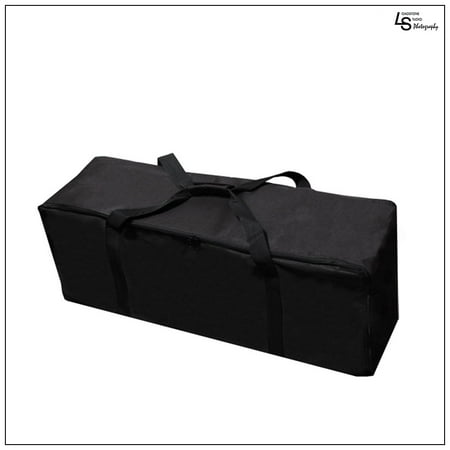 All Purpose Professional Carrying Case Bag for Photo Lighting Equipment 80 lbs. Capacity Water Resistant Nylon by Loadstone Studio
Lighting Carrying Bag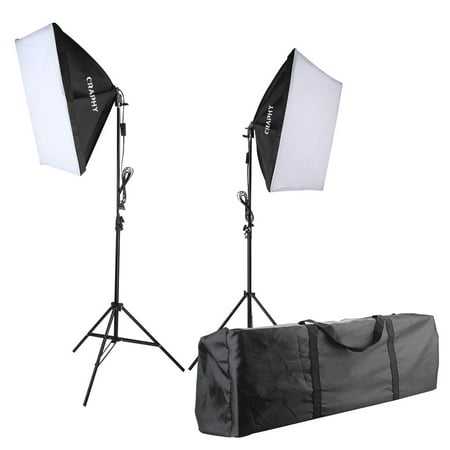 700W 5500K Photography Studio Soft Box Lighting Kit Continuous Light Equipment for Portrait Video Shooting US Plug(20x28" Softbox + 80" Tall Light Stand + Carrying
Lighting Carrying Bag
Model: SHOX-003
Color: Black
Price: 48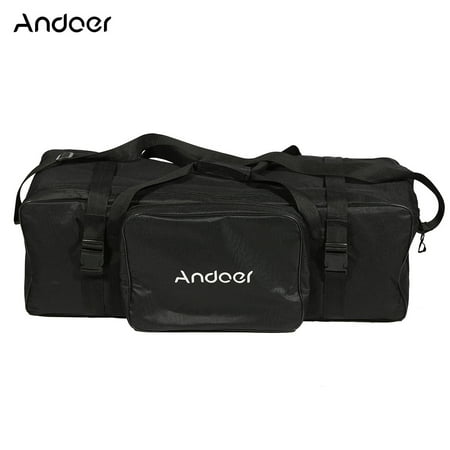 Andoer 74 * 24 * 25cm / 29 * 9 * 10in Photography Studio Light Kit Padded Carrying Bag for Light Stand Umbrella Flash Lighting
Lighting Carrying Bag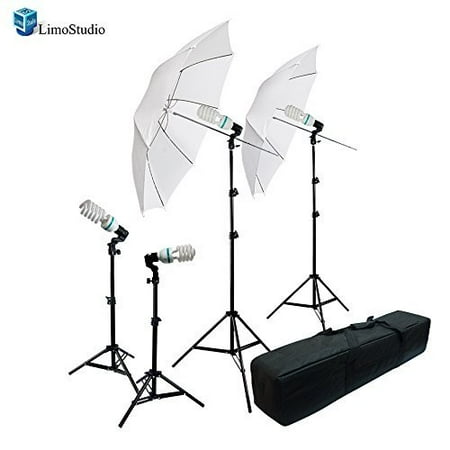 Loadstone Studio Photography & Video Portrait 4 x 45W Umbrella Continuous Lighting Kit with Carrying Case Bag,
Lighting Carrying Bag
Lighting Carrying Bag Video Results
Fit ALL your gear in ONE BAG!
Lighting Carrying Bag
► TRIPOD BAG w/ WHEELS: https://amzn.to/2EjJbvb This is by far the BEST tripod and light stand bag on the market for this price. If you're looking to fit all your gear in one bag, and are a photo or videographer, this is PERFECT. If you've been searching for: best tripod bag, best light stan...
Likes: 64
View count: 4674
Dislikes: 8
Comments:
The best Tripod Case for carrying all your camera gear
Lighting Carrying Bag
If you're like me, then you may be a one-man-band event shooter which requires a lot of gear. I used to carry around most of my stuff in three bags, but after a while it began wearing my body down, so I decided to buy a tripod bag that could hold everything and be wheeled around. In this video I ...
Likes: 141
View count: 7591
Dislikes: 7
Comments:
Strobepro 3 Piece Light Stand Carrying Bag
Lighting Carrying Bag
https://strobepro.com/products/3-piece-light-stand-carrying-bag ALL NEW DESIGN We've just updated the design for 2019 and made it better than ever. Material thickness has doubled and we've reinforced high wear areas. FITS 3 STANDS Clean up the clutter and transport your stands in style with th...
Likes: 3
View count: 488
Dislikes: 0
Comments:
Globeiz.com is a participant in the Amazon Services LLC Associates Program, an affiliate advertising program designed to provide a means for sites to earn advertising fees by advertising and linking to Amazon.com. Amazon and the Amazon logo are trademarks of Amazon.com, Inc. or one of its affiliates