Liquitex G5316 Professional White Gesso Surface Prep Medium,
Liquitex Gesso
Liquitex offers the broadest range of acrylic mediums to inspire creativity at every stage of the painting process. Surface Prep Mediums are used to seal prime and add tooth (for color adhesion) to all surfaces such as canvas wood paper and metal. This same preparation is used for both acrylic and oil paint. Our professional gessoes usually take just one coat, and adding Liquitex Soft Body color to any gesso creates customized tints and primers. Liquitex Gesso Surface Prep Medium is a premium acrylic gesso used to prepare painting surfaces for acrylic and oil paint. Excellent base coat primer for many applications, including murals; one coat is usually all that is required. Can be applied to any material or surface that will accept traditional acrylic media, such as canvas, paper, wood, etc.  Liquitex Surface Prep Mediums are lightweight, non-toxic, and dry to a water-resistant, non-yellowing surface. APPLICATION: Use undiluted or thin up to 25% with water. When thinning more than 25%, use an equal mixture of water and Liquitex Matte Medium to thin gesso. Tint with up to 10% Liquitex Soft Body or Heavy Body Artist Colors. Visit our Liquitex Amazon Storefront for full product assortment.This package contains 16oz/473mL of Gesso.
Color: White
Brand: Liquitex
ASIN: B000KNJF6W
UPC: 094376923957
Part No: G5316
Liquitex Acrylic Gesso Surface Prep-White
Liquitex Gesso
Classic white sealer and ground for absorbent surfaces, such as canvas, paper, or wood. Provides the proper surface sizing, tooth, and absorbency for acrylic and oil paints. One coat is usually enough. Traditional gesso is meant to be opaque titanium white for good coverage. Two coats are recommended under oil color. Item Properties Category: Mediums Brand: Liquitex® Color: White/Ivory Size: 4 oz Type: Acrylic Painting Type: Gesso
ASIN: B00P8E2GPU
UPC: 094376923933
Part No: 5304
Liquitex BASICS Acrylic Medium Starter
Liquitex Gesso
Basics mediums are developed for students and artists that need dependable quality at an economical price. Basics mediums are mixed with acrylic paint to adjust how the paint works, feels and looks. They can be used to add texture, adjust paint flow, and alter the working properties of the color. Because they include acrylic resin, these mediums maintain or add to the stability of the paint film, and can be used in any amount desired. Contains 5 75ml/2.5-oz tubes. Modeling paste, gloss gel medium, Gesso, iridescent medium, and coarse texture gel.
Color: Multicoloured
Brand: Liquitex
ASIN: B01LZUZIU1
UPC: 887452995678
Part No: 3699302
Handy Art Acrylic Gesso, 32 oz, White
Liquitex Gesso
Handy Art Acrylic White Gesso/Medium is an excellent quality student primer that dries to a flexible matte finish. Apply as an undercoating or primer to surface before painting to improve adherence. Clean up with soap and water. Certified AP Non-Toxic. Made in the USA.
Color: White Gesso/Medium
Brand: Handy Art
ASIN: B007TIE3Q8
UPC: 075176102773
Part No: 440-003
Liquitex Gesso Surface Prep-Clear
Liquitex Gesso
A very clear size and ground that keeps the working surface visible. Clear Gesso provides an ideal degree of tooth for pastel, oil pastel, graphite, and charcoal as well as an excellent ground for acrylic and oil paints. This gesso is ideal for painting over colored or patterned surfaces or over and under drawing. Mix with acrylic color to establish a tinted transparent/translucent ground. Dries clear to translucent depending on thickness. One coat is usually enough.
Brand: Reeves
ASIN: B00BHY5S7I
UPC: 094376931679
Part No: FBA_7616
Winsor & Newton Galeria Acrylic White Gesso Primer, 1-Liter(Package may
Liquitex Gesso
Winsor & Newton White Gesso Primer is made from high quality acrylic resin with a good level of pigment strength, it can be used straight from the pot and has excellent "tooth" for film adhesion. To reduce absorbency and to boost the integrity of the film a minimum of two coats is required if working with oils.
Color: transparent
Brand: Winsor & Newton
ASIN: B0060KWQQ0
UPC: 094376885507
Part No: 3054948
Liquitex 1301002 Professional Freestyle Large Scale Brush, Paddle
Liquitex Gesso
At Liquitex, we understand that it takes more than just good paint to produce a truly great piece of art. That's why we've created our professional range of artist brushes. Liquitex Freestyle Brushes are the perfect tools for virtually any artistic application. Designed by artists for artists, these brushes have unique ergonomic handles and strong synthetic bristles that make them both comfortable and durable. If you work really large, our innovative ranges of large painting knives and brushes, in unique shapes and sizes, are designed to facilitate your creative expression on a grand scale. Liquitex Freestyle Paddle Brushes meet the expanding needs of acrylic artists working in grandiose scales. Large, comfortable non-slip matte finished handles crafted from the highest quality wood have been paired with top-of-the-line synthetic bristle heads; resulting in artist quality brushes that offer excellent durability in large scaled applications that require rugged tools. Ideal for large-scale work, varnishing. Available in varying sizes. Visit our Liquitex Amazon Storefront for full product assortment.
Color: Beige
Brand: Liquitex
ASIN: B003W1ILMI
UPC: 094376976458
Part No: 1301002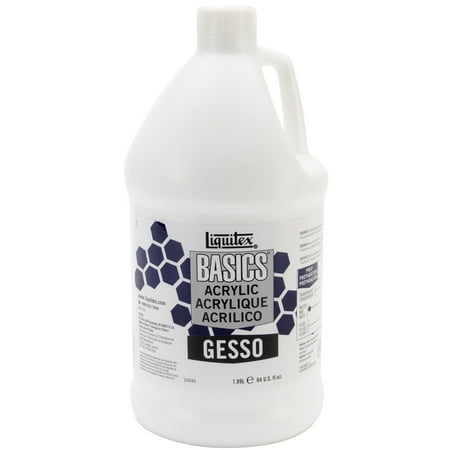 Liquitex BASICS Gesso-64oz FOB:
Liquitex Gesso
Model: BS104084
Color: White
Size: 1/2 gallon
Price: 17 18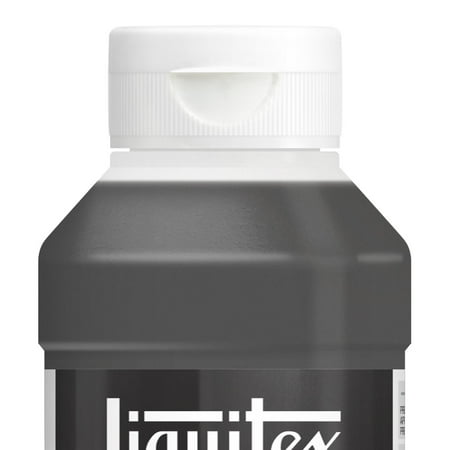 Liquitex Professional Black Gesso Surface Prep Medium Bottle,
Liquitex Gesso
Model: 5320251
Color: Black
Size: 8 oz
Rating: 5.0
Price: 11 14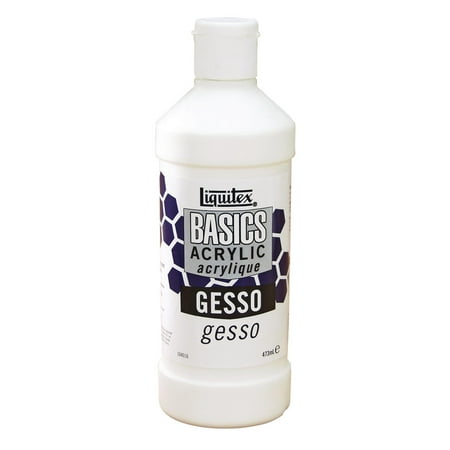 Liquitex BASICS Gesso Surface Prep Medium,
Liquitex Gesso
Model: 104016
Color: White
Size: 16 oz
Rating: 2.333
Price: 7 9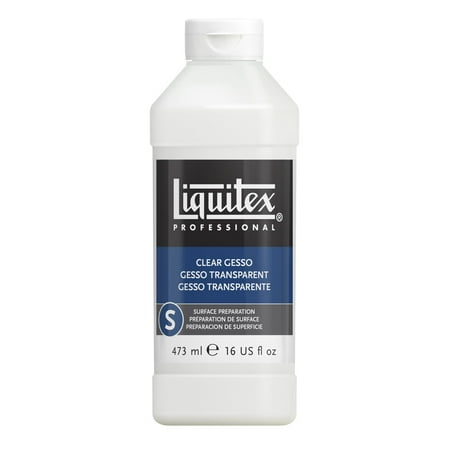 Liquitex Professional Clear Gesso Surface Prep Medium,
Liquitex Gesso
Model: 7616
Color: Clear 16oz,ClearClear
Size: 16 oz
Rating: 5.0
Price: 14 18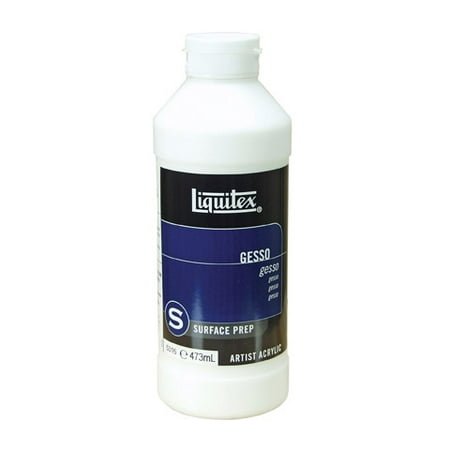 Liquitex Gesso, Pint
Liquitex Gesso
Model: BS5316
Color: WhiteWhite 16oz,White
Size: 16 oz
Rating: 4.0
Price: 14 17
Liquitex Gesso Video Results
Preparing a Smooth Canvas for Painting - Oil or Acrylic
Liquitex Gesso
In this video I'm demonstrating how I prepare my canvases for painting. I like a somewhat smooth surface for most of my oil or acrylic paintings unless I'm using a palette knife or going for a lot of texture in my painting. With this method you can take a rougher or cheaper canvas and make it i...
Likes: 127
View count: 5004
Dislikes: 1
Comments:
What is Gesso? How to use Gesso on Acrylic Painting! step by step Narrated Video
Liquitex Gesso
♥ SUBSCRIBE US at: https://goo.gl/aIPTzL for more great Tutorials ___________________________________________ ► Last Video:- https://youtu.be/E0ahTDg6Blo ► Most Popular Video:- https://youtu.be/YWyPGxAicyM ► Share this Video:- Acrylic Supplies- https://youtu.be/vUDOVqh551c ______________________...
Likes: 2168
View count: 221888
Dislikes: 168
Comments:
Canvas Prep 101
Liquitex Gesso
Did you know that before you put paint to canvas, you need to prep it with gesso? We'll show you how easy it is to do, along with a couple fun tricks to try and the reasons why it's such an important step to creating your masterpiece. So along with your paintbrushes, acrylic and oil paints, grab ...
Likes: 849
View count: 66469
Dislikes: 33
Comments:
Globeiz.com is a participant in the Amazon Services LLC Associates Program, an affiliate advertising program designed to provide a means for sites to earn advertising fees by advertising and linking to Amazon.com. Amazon and the Amazon logo are trademarks of Amazon.com, Inc. or one of its affiliates