Mini FPV DVR, ARRIS 5.8Ghz FPV Goggles Micro HD Digital Video Audio Recorder for FPV Racing Drone
Mini Dvr
Note: It can be worked on most fpv goggles or fpv racing drones which supports AV Out, and it helps you record a wonderful flight video, brings you more flight fun. Safety instruction: 1.Read the entire instruction manual to become familiar with the features of the product before operating. 2.Please avoid wet or humid environments. 3.Please use standard USB charger, charging voltage can only be 5V. 4.DVR has a built-in battery, don't store it in a high temperature and humid environment. Feature: ● Small size and light weight; ● Low power consumption, working current 200mA; ● Aluminum metal shell (CNC machining); ● Support Up to 32GB TF card (class 10 recommend); ● Built-in 3.7V/400mAh Li-ion polymer Battery; ● Universal USB charging interface; ● High precision 4 level battery power indicator; ● Multilingual Menu, 11 kinds of Menu Languages choice; ● CVBS signal input (Built-in Video decoder); ● Support Playback and AV signal output (Built-in Video encoder); Menu Language: English, French, German, Italian, Spanish, Portuguese, traditional Chinese, simplified Chinese, Japanese, Russian; Korean. Package included: 1 X FPV Min DVR 1 X Double-end AV cable 1 X Video cable 1 X Magic tape
Brand: ARRIS
ASIN: B07F9P4MFW
Part No: MA0108
FPV Mini DVR with SD Card Reader, SD Card Real-time Digital Video Recorder for FPV Camera Hi8 Camcorder DVD TV Box MPEG-4
Mini Dvr
Description: The perfect accessory for your FPV system! This SD DVR (Digital Video Recorder) allows you to easily record everything you see and hear from your FPV model's camera directly to an SD card. This eliminates the need for bringing your laptop to the field for video recording. This device features and A/V input and output allowing you to connect it in-line with your vehicle system. The input source will be recorded directly to the SD card, while the A/V output will carry the signal on to your TV, monitor or FPV goggles. The SD DVR even includes an IR remote control for easy setting adjustment such as resolution, video quality, volume, timer functions and more. The menu system will be displayed via the A/V output to your TV, monitor or FPV goggles. Features: MPEG-4 video compression D1(704 x 576) resolution MPEG-4/ASF video format, MP3 audio format Real-time stamp on videos, overwrite Manual/motion detect/scheduled/power-up record audio input, audio compression 8KHZ/ADPCM 5/15/30fps optional SDHC memory support, up to 32GB TV-out enables better resolution by TV set MPEG-4/ASF playback AV-IN, AV-OUT directly connect with camera, TV, monitor Support IR remote operation Support manually snapshot 5-35V for wide power supply use Low power-consumption, 1W when standby, 2W when...
Color: Mini DVR CH1
Brand: GRACETOP
ASIN: B07BGWWBWZ
UPC: 606993806515
Part No: GTDVRCH1
eBoTrade Dirct Mini Security Metal DVR Micro Sd Card Recording with
Mini Dvr
America's most reliable electronic product brand, Faster and safer products with our leading eBoTrade technology, 10 million+ happy users and counting. Features: Low bit rate required for fastest network transfer, Compact and lightweight, easy to install and connect, Work with special PC software, convenient and friendly to use, Adopt advanced ARM+DSP technology and intelligent algorithm, Mini C-DVR video/audio recorder motion detection TF card recorder for IP camera, It also supports video recording through TF/SDHC cards (not included) as well as video playback function. Specifications: Video System: PAL/NTSC. Recording Mode: Continuous/Motion Detected/Mixing. Video Encoding: AVI. Browse Software: Support Windows Media Player. Recording Function: Local Storage/Loop Video Recording. Recording Frame Rate: Real Time 1~30fps Adjustable. Record Resolution: VGA (640 x 480), QVGA (320 x 240) Playback: Playback on monitor or take TF card. Storage: Support TF Card Up to 32GB. Dimensions: (2.76 x 3.35 x 0.98)" (L x W x H). Weight: 249g/ 8.78oz. Package Included: 1 x Mini CCTV C-DVR, 2 x Audio/Video Cord, 1 x US Charger, 2 x RCA Connector. Worry-Free Warranty: At eBoTrade, we back products all with an 18-month warranty and provide friendly, easy-to-reach support. eBoTrade Product Certified...
Color: Blue
Brand: eBoTrade-Tech
ASIN: B00A0JMY8C
UPC: 662425060160
Part No: 1054123
NIDICI Mini FPV DVR Video Audio Recorder 720P NTSC/PAL Switchable Aluminum Alloy Casing for FPV Racing Drone
Mini Dvr
Description: System startup time: 3 seconds Video input format: NTSC/PAL Video in: [email protected] 75Ω Video out: [email protected] 75Ω Video compression format: MJPEG Record file resolution: VGA (640 * 480) / D1 (720 * 480) / HD (1280 * 720) selectable Record file format: AVI Recording sound: ON/OFF selectable Cycle recording time: 10min/20min/30min Frame rate: 30 Frames Memory card: TF card, support up to 32GB (C10 recommended) Menu language: 11 language choices Optical frequency: 50Hz/60Hz can be selected Video playback: CVBS output (connected to the monitor) Audio input interface: 3.5mm AV jack Audio output interface: 3.5mm AV jack Charging interface: micro USB interface Charging voltage: 5V DC Charging current: 500mA Max Battery (non-removable): Built-in 3.7V/400 mAh lithium ion polymer battery Battery life: Each working load is 1.5 to 2 hours of working time Operating temperature: -10~60°C Operating humidity: 85% RH Dimension: 53mm * 33mm * 9mm Weight: 24.5g Menu language: English, French, German, Italian, Spanish, Portuguese, Traditional Chinese, Simplified Chinese, Japanese, Russian, Korean. Features: * Small size and light weight; * Low power consumption, operating current 200 mA; * Aluminum alloy casing (CNC processing); * Support 32GB TF card (10 level recommended); * Built-i...
Brand: NIDICI
ASIN: B07P12V2SV
UPC: 713721651917
Part No: 0
WiseupTM 1Ch D1 Realtime Mini SD Card Car DVR Vehicle Mobile
Mini Dvr
Key Features: 1 Channel Realtime AV Recording Max Video Recording Resolution: 720*576 Video Format: MPEG4 Support Motion Detective Recording Support Mask Area Setting Support Date/Time Stamp Video Recording Mode: Manual, Scheduled, Motion Detection or Power Up Rec Motion Detective Sensitivity, Speed Adjustable Noise Margin Adjustable Anti Vibration Overwriting when memory is full Max Frame Refreshing Rate: 25/30 fps Support 32GB SD Card Memory in Max Video Input: 1x BNC Video Output: 1x BNC Power Supply: DC 5V-30V Mini Size Good for Car, Vehicle, Home, Store Use Package Includes: 1x Mini SD Card DVR 2x AV Cable 4x BNC to AV Converter 1x Power Adapter 1x SD Card Reader 1x User Manual Wiseup If for any reason you are unhappy with any product by Wiseup, please do not hesitate to contact us. We take full ownership and responsibility for the quality of our products and will do our very best to solve your problem quickly and efficiently! Wiseup-USPTO# 86318120- is a registered trademark protected by US Trademark Law. Wiseup products are sold by authorized sellers only.
Brand: WISEUP
ASIN: B00M18MDJA
UPC: 524838375418
Part No: WP-MD208
Toworld18 2.5" LCD Angel Eye Portable Mini Video Recording System Button DVR Video Recorder Camera
Mini Dvr
This angel eye mini DVR can let you keep the eye on what you care. You can use the angel eye mini DVR to record video and audio and play them through the playback. angel eye dvr,eye motion detection,angel eye mini DVR The motion detection mini DVR has high definition 2M pixel that can photograph many beautiful pictures you want. You need to plug the mini camera to the mini DVR and then you can start to take videos or photos. This motion detection mini DVR can let you photograph anything that you care at any time. And the mini size makes it very convenient to carry with anywhere. It will bring joyfulness when traveling outdoor. Features: * Keep the eye on what you care * Multiple record mode: Motion detect record/manual record/appointment record * Storage full over write automatically * Fast video recording by one key function * Recording, power on/off via remote control * Real time display/recording at 30fps with date and time stamp * 960*240 high-definition 2.5 inch LCD screen * Support 32GB TF memory card (Not Included) * Video resolution: 800*600/640*480/320*240 optional * Video frames 10-30 frames/second optional * High-speed USB 2.0 interface * Audio and video input/output * Configuration removable high-capacity lithium battery, about 5 hours of continuous playback, video re...
ASIN: B00JBJ1140
UPC: 725444008701
Part No: PN1
Eversecu 4ch Mini CCTV Video Recorder, 1080P Lite Hybrid DVR Support 1080P AHD/HD-TVI/HD-CVI/CVBS Cameras Real time CCTV Hybrid DVR NVR Support TF Card, E-Sata HDD, Support Remote View CCTV
Mini Dvr
Product Specification: Main Chipset: Hi3520D V200 OSEmbedded: LINUX OS Image codec:H.264 Preview: 4*AHD/TVI/[email protected] Coding: 4*AHD/TVI/[email protected] Decode / Playback:4*AHD/TVI/[email protected] Multi-mode Input:AHD: 4*1080N;4*720P;4*960H; Hybrid: 2*720P(AHD)+2*720P(IP); IP:8*1080P;12*960P;8*720P; 4*1080P; 4*720P; 1*1080P Video input:4 * BNC Binding mode:1 Channel binding;for example: 1st Channel connect AHD Camera, 2nd Channel can connect Analog camera Video Output:1 * CVBS, 1 * HDMI(MAX 1920*1080) Network:RJ45 10M/100M Coaxial UTC:4 Channels USB Port:2 * USB port (Support external HDD up to 6TB) HDD Interface1 * eSATA HDD + 1 * USB Two-in-One Port (up to 6TB) TF Card class Support(Up to 128GB Class10) Wireless port3G, WIFI(Via extended USB) Power5V/2A Power consumptionLess than 10W Working Temperature0℃-+55℃ Working Humidity10%-90% Barometric pressure86kpa-106kpa Packing List: 4CH DVR * (1) Power Supply for DVR * (1) CD Software&User manual * (1) mouse * (1) Remote control * (1) Cables * (2)
Brand: EVERSECU
ASIN: B07B4V9S63
UPC: 788988028895
Part No: PN1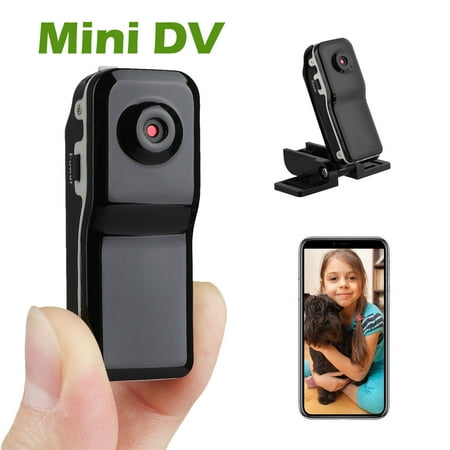 HD Camera Mini DV DVR , EEEKit Wireless Portable Mini Nanny Cam with Clip-On Adapter, Perfect Small Security Camera for Indoor and
Mini Dvr
Model: 130195
Color: Black
Rating: 3.125
Price: 8 16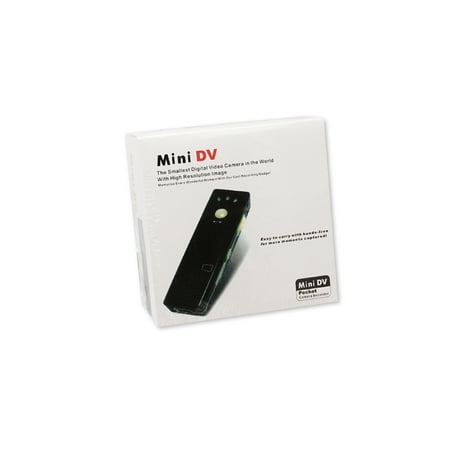 Mystery Shopper Device Mini Portable Spycam DVR Video Recording
Mini Dvr
Model: 173257dvr176144dba
Color: White
Price: 29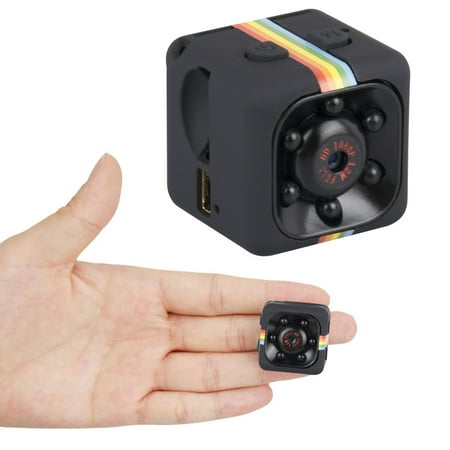 FeelGlad Mini Camera HD DVR 1080P Motion Detection Wireless Camera for Home
Mini Dvr
Color: Black
Rating: 3.0
Price: 14 47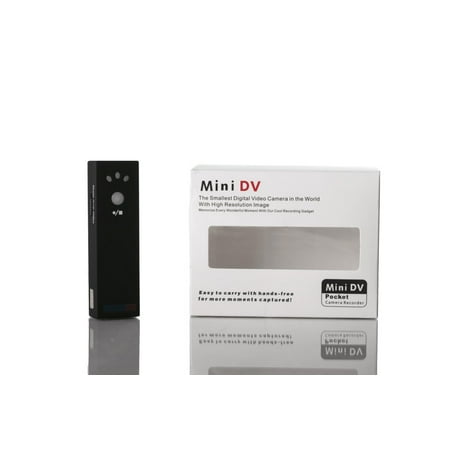 usb flash disk design security cam mini dvr videro recording
Mini Dvr
Model: 174489dvr176144dba
Color: White
Price: 39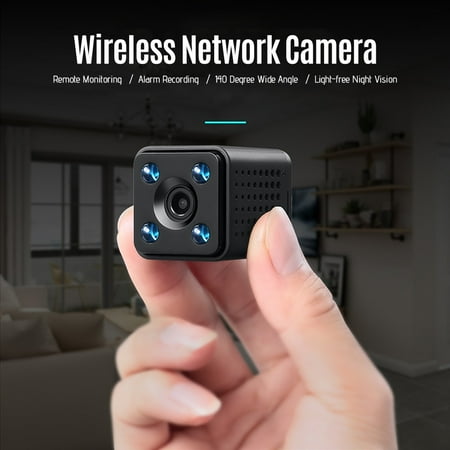 Mini WiFi Camera Wireless DVR Nanny Cam Security Camera with Motion Detection Night Vision HD 1080P IP Video Recorder with Mobile Live View for Android
Mini Dvr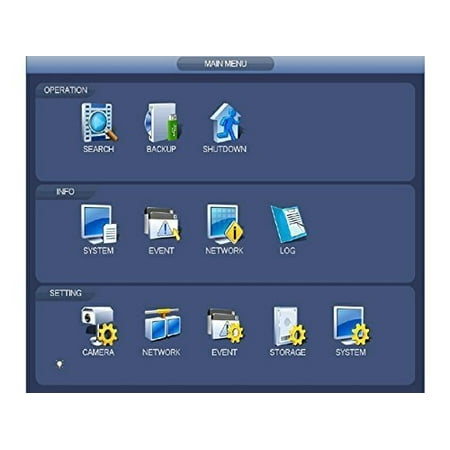 Dahua OEM HCVR5108H-S2 720P/1080P 8CH [Tribrid] [HDCVI & Analog & IP] Mini 1U HDCVI DVR - 8CH HD-CVI DVR [Multi-brand] Network Cameras
Mini Dvr
Color: Black/RedBlack
Price: 125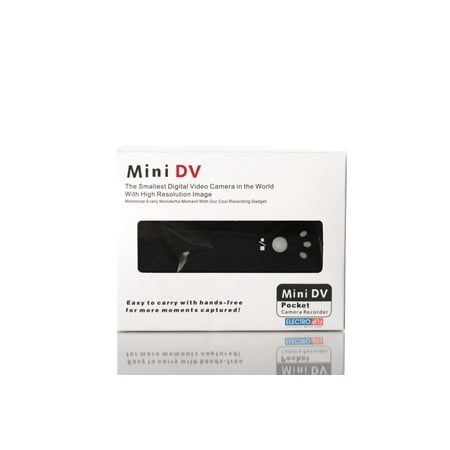 Ultra Mini Nano DVR SpyCam Protects Valuables + SD
Mini Dvr
Model: 174423dvr176144dba
Color: White
Price: 29
Mini Dvr Video Results
Surveilzone.com Mini DVR for FPV - RCGroups
Mini Dvr
This is the video portion of my review of the Mini DVR from Surveilzone.com. I go over the features and show the unit in action. Watch as I attempt to land my Penguin FPV plane after the aileron locks up fully deflected! http://www.rcgroups.com/forums/showthread.php?t=2217032
Likes:
View count: 20824
Dislikes:
Comments:
CIGITM: C-DVR Composite Video Recorder Review
Mini Dvr
Crap I Got in The Mail! We take a peek inside China's finest C-DVR 1 CH Composite Video Recorder thing. The OSD and video output is awful, but the footage recorded to the micro SD card (if its a good card) is fairly good. It was £12 from http://www.ebay.co.uk/itm/C-DVR-1CH-Video-1CH-Audio-TF-Card...
Likes: 49
View count: 20601
Dislikes: 16
Comments:
Eachine EV100 Official DVR - All Formats Tested
Mini Dvr
DVR: https://www.banggood.com/Eachine-Micro-AV-Recorder-1280480-Mini-DVR-Support-32G-TF-For-EV100-Goggles-p-1196134.html?p=XO2013166930201304K5&utm_content=zhengsiying&utm_campaign=EV100 Ev100 Review: https://www.youtube.com/watch?v=lqFpQT9ViOk Patreon: https://www.patreon.com/andyrcchannel M...
Likes: 422
View count: 30235
Dislikes: 21
Comments:
Globeiz.com is a participant in the Amazon Services LLC Associates Program, an affiliate advertising program designed to provide a means for sites to earn advertising fees by advertising and linking to Amazon.com. Amazon and the Amazon logo are trademarks of Amazon.com, Inc. or one of its affiliates