Amazing Origami Kit: Traditional Japanese Folding Papers and Projects [144 Origami Papers with Book, 17
Origami Paper Kit
Origami paper with stunning Japanese traditional prints and fun and simple folding instructions!Amazing Origami Kit is designed for origami paper folders of all ages and all skill levels—from novices up to more experienced folders. It provides everything you need to create exciting and original origami art. The gorgeous folding papers feature delicate patterns with gold detailing, recalling the one-of-a-kind traditional designs used in the Japanese kimono fabrics from a bygone era. This origami kit contains: A full-colored 64-page booklet Clear step-by-step instruction and diagrams 17 fun-to-do projects 144 high-quality origami folding sheets 2-sided, full-color folding paper 13 custom paper designs 6 3/4 X 6 3/4 size paper The sturdy box doubles as a display pedestal.One of the pleasing aspects of origami is its simplicity. The paper folder needs nothing more than something to fold—no glue, no tape, no string or wire—just a piece of paper! Though the materials are simple, origami exemplifies the ability of the human mind to solve problems and create a beautiful harmony. Origami is relaxing and peaceful, but it is also fun and exciting to discover new ways to fold paper. With Amazing Origami's simple instructions, origami beginners will be able to get started immediately. W...
Brand: Simon & Schuster
ASIN: 0804841918
UPC: 814050013206
Part No: 9780804841917
Japanese Origami for Beginners Kit: 20 Classic Origami Models: Kit with 96-page Origami Book, 72 High-Quality Origami Papers and Instructional DVD: Great for Kids and
Origami Paper Kit
Make traditional, simple and fun papercraft models with this easy origami book and paper kit.The ancient art of origami originated in Japan, where it is steeped in traditional values. The 20 models presented in this kit include many with strong symbolic meanings, such as the carp, the frog and the crane, which symbolize longevity, good luck and perseverance. Also included in this kit are paper models which have practical uses, such as a bag in which to store spices or powdered medications, the masu box for containing small gifts, and uniquely shaped notes with elaborate closures. The more playful side of origami is represented as well: the stylized sumo wrestler with realistic moves has entertained Japanese children for centuries, and the paper Samurai hat is a favorite of kids. This origami kit contains: A full color, 96-page book Step-by-step folding instructions 20 classic origami projects 72 sheets of 6'' x 6'' folding papers Double-sided color 20 beautiful patterns Instructional DVD with 100 minutes of video tutorials Videos are also streamable or downloadable online Origami is an ideal activity for children since paper folding develops dexterity and creativity. Origami is also a craft based on a few fundamental 3D folding techniques. Japanese Origami for Beginners Kit is a ...
Brand: Tuttle Publishing
ASIN: 0804845433
UPC: 814050013282
Part No: 1
Creativity for Kids Origami - Origami for Beginners, 60 Bright Origami
Origami Paper Kit
Learn the ancient art of origami with this complete origami craft kit! Super-bright neon paper and fun sticker embellishments make this craft activity more than just folding paper. Includes 60 sheets of paper with easy-to-follow instructions with images for frustration-free origami. Watch our YouTube video for a guided tutorial http://www.youtube.com/watch?v=OrPwdvwplsk&feature=share&list=UUXPWUxWVVBnMS1sjX0cZDKw&index=6.
Brand: Creativity for Kids
ASIN: B00HDQ1XVY
UPC: 092633179505
Part No: 1795000
Aitoh OG-KIT Origami Paper
Origami Paper Kit
AITOH-Origami Kit. Amazingly simple and incredibly beautiful. Now you can unfold the secrets of this ancient craft and create exquisite paper decorations! This package contains sixty-eight sheets of origami paper (forty sheets of colorful paper; eight sheets of patterned paper; ten sheets of fancy foil paper and ten sheets of double-sided colorful paper) and one twenty-three page illustrated step-by-step instruction book. Recommended for ages 8 and up. WARNING: Choking Hazard-small parts. Not for children under 3 years. Imported.
Color: Multiple
Brand: Aitoh
ASIN: B001TOZ9ZW
UPC: 762867200015
Part No: OG-KIT
Easy Origami (Dover Origami Papercraft)over 30 simple
Origami Paper Kit
Here is a collection of 32 simple projects for novice origami hobbyists — clearly illustrated and with easy-to-follow instructions that even beginning papercrafters can follow with success. Subjects range from an ultra-simple hat, cup, and pinwheel to the more challenging (but still unintimidating) penguin, pelican, and piano.Also included are the figures of a swan, lantern, cicada, pigeon, fox, rabbit, and other popular origami subjects. With the successful completion of these projects, origami hobbyists will be well on their way to mastering a fascinating art that's as old as the invention of paper itself.
Brand: Dover Publications
ASIN: 0486272982
UPC: 800759272983
Part No: 27298-2
Caydo 50 Vivid Colors 200 Sheets Origami Paper 6-Inch by 6-Inch for Arts and Crafts
Origami Paper Kit
Caydo 50 vivid colors 200 sheets origami paper 6-inch by 6-inch for party and gifts Features A unique collection of 50 colors, can be suitable for anyone's demand for color Share your creations with friends and loved ones, you can find more fun with your children in your family time Perfect kit for learning how to make origami paper planes, flower, heart, dress, heart shapes, envelope, airplanes, hats, paper animal such as crane, frog, elephant, fish, cat, swan, dragon, dog, turtle, sakura, geisha, butterfly, dinosaur, monkey, panda, pig, dove, horse, rabbit, zebra, and a lot more Specifications  Material: Premium paper  Dimension: 15cm x 15cm square  Sheets: 200 sheets Color: 50 colors NOTE: About 18% of the origami papers are single sided!  Package included 200 x Origami Paper
Brand: Caydo
ASIN: B06WGTVZCG
UPC: 603717454090
Part No: CY-0179
My First Origami Kit: [Origami Kit with Book, 60 Papers, 150 Stickers, 20
Origami Paper Kit
**Winner of Creative Child Magazine Preferred Choice Award** Children and beginners can make fun and simple origami projects with this playful origami kit.My First Origami Kit is the perfect, affordable introductory kit for kids and parents to learn and master the joys of origami together. If you've never done origami before, My First Origami Kit is a great origami kit for beginners. It is filled with origami of all kinds—birds, beasts, vehicles, even a teddy bear that talks when you open and close its arms.The folding fun begins with the specially designed origami papers. Both sides are decorated based on the subject—feathers for the duck, metal plates for the airplane, scales for the cobra, and other surprises. You'll end up with a great looking paper model no matter with which side you start. You can add fun stickers to your finished models—to make eyes, ears, paws, and other features.This easy origami kit contains:Full-colored instructional booklet Easy-to-follow instructions 22 origami-for-kids projects 150 detailed stickers 60 two-sided folding sheets Origami paper is pre-coloredThis kit is sure to keep kids engaged and happy for hours. They'll be so proud of their very first origami—and you'll be delighted to display them!Origami projects include: Penny Penguin Sea...
Brand: Simon & Schuster
ASIN: 4805312440
Part No: T312445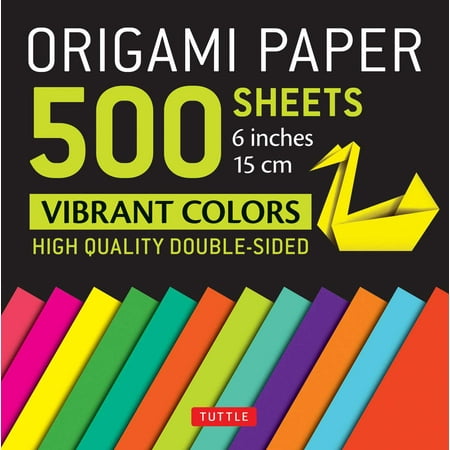 Origami Paper 500 sheets Vibrant Colors 6" (15 cm) : Tuttle Origami Paper: High-Quality Origami Sheets Printed with 12 Different Colors: Instructions for 8 Projects
Origami Paper Kit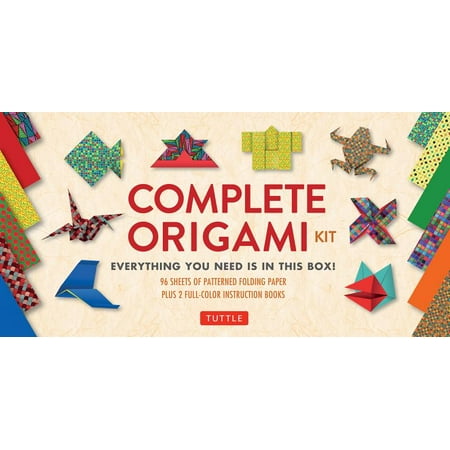 Complete Origami Kit : [Kit with 2 Origami How-To Books, 98 Papers, 30 Projects] This Easy Origami for Beginners Kit Is Great for Both Kids and
Origami Paper Kit
Origami Paper 500 sheets Chiyogami Designs 6" 15cm : Tuttle Origami Paper: High-Quality Origami Sheets Printed with 12 Different Designs: Instructions for 8 Projects
Origami Paper Kit
Rating: 5.0
Price: 10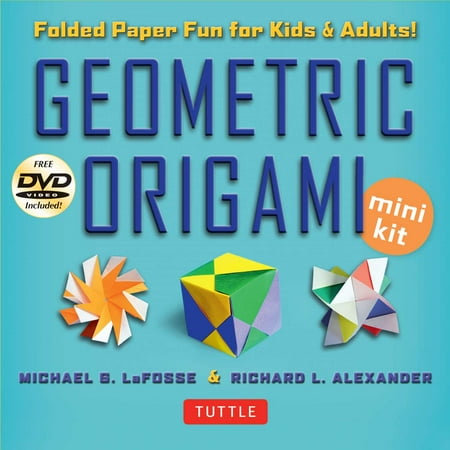 Geometric Origami Mini Kit : Folded Paper Fun for Kids & Adults! This Kit Contains an Origami Book with 48 Modular Origami Papers and an Instructional
Origami Paper Kit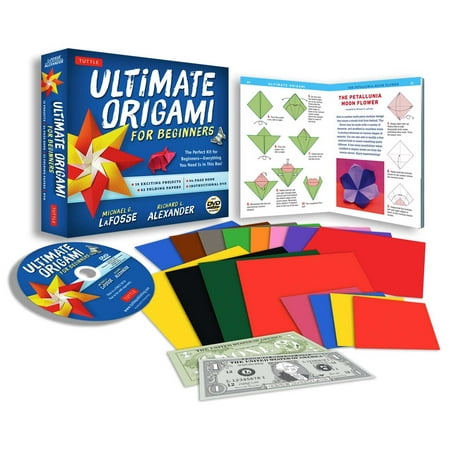 Ultimate Origami for Beginners Kit : The Perfect Kit for Beginners-Everything you Need is in This Box!: Kit Includes Origami Book, 19 Projects, 62 Origami Papers &
Origami Paper Kit
Rating: 3.5
Price: 12 13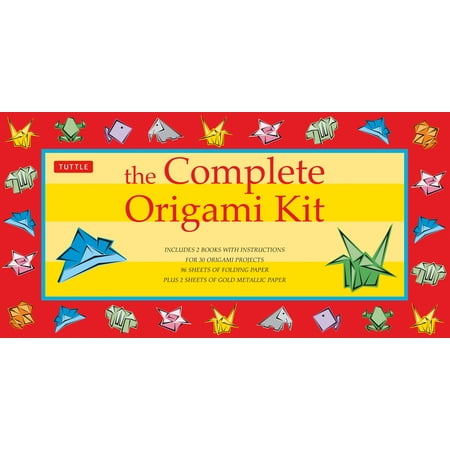 The Complete Origami Kit : Kit with 2 Origami How-to Books, 98 Papers, 30 Projects: This Easy Origami for Beginners Kit is Great for Both Kids and
Origami Paper Kit
Origami Paper Kit Video Results
Dollar Tree Origami Paper Folding Kits Unboxing
Origami Paper Kit
An unboxing or unwrapping of origami paper in America. This paper is made by Dollar Tree. These are a variety of kits that include beautifully designed double-sided paper to create lots of run origami. They are in themes and they include a cute fold out background paper that you can use to play w...
Likes: 30
View count: 5128
Dislikes: 9
Comments:
Origami Paper Folding Kit Three Little Pigs #20
Origami Paper Kit
Hi everyone! In this video I will show you how I enjoy doing Origami. it's easy and fun to make. In this kit includes,12 Patterned Origami Sheets, Step -by-Step Instructions and a Colorful Play mat. You can make 3 Pigs, House of Straw, House of Sticks, House of Bricks,and 3 Wolves. For more addi...
Likes: 17
View count: 2974
Dislikes: 5
Comments:
Origami Paper "Church / Castle " - Very easy to make !
Origami Paper Kit
Snap your models and post is at Facebook : https://www.facebook.com/pages/Paper-Folds-Origami/1591482551087980?fref=ts Google Plus : https://plus.google.com/106182127932531794431/posts Twitter : https://twitter.com/parsh1 # Origami
Likes: 117
View count: 14183
Dislikes: 16
Comments:
Globeiz.com is a participant in the Amazon Services LLC Associates Program, an affiliate advertising program designed to provide a means for sites to earn advertising fees by advertising and linking to Amazon.com. Amazon and the Amazon logo are trademarks of Amazon.com, Inc. or one of its affiliates