Braun BNC002WHWH Classic Analog Quartz Alarm
Quartz Alarm
Braun Analog Alarm Clock
Color: White
Brand: Braun
ASIN: B004XK19R6
UPC: 885218870870
Part No: BNC002WHWH
Seiko QHE117SLH Bedside Alarm Japanese Quartz Alarm
Quartz Alarm
Who knows - with a clock as chic as the Seiko Bedside Alarm Clock waking you up each morning, climing out of bed might just be a bit easier - even on a Monday. Available in your choice of finish, it features a resin case with plastic cover. The beep alarm comes complete with a snooze function, the quiet-sweep second hand eliminates ticking, and a dial light illuminates the face. You'll need to add three AA batteries (not included). Over its 120 year history as a maker of fine timepieces, the Seiko name has become synonymous with cutting edge technology, ultra-precision, constant innovation and refinement. Millions worldwide rely on Seiko wristwatches to keep them on schedule. Two generations have grown up thrilling to Olympic and World Cup competitions where victory or defeat is defined within a fraction of a second, all overseen by Seiko timekeepers. Dimensions: 2.75L x 4.75W x 4.75H in.. Resin case in your choice of finish. Beep alarm with snooze function. Quiet-sweep second hand. Requires 3 AA batteries (not included).
Color: White
Brand: SEIKO
ASIN: B00MFGNVXU
UPC: 029665177049
Part No: QHE117SLH
MEKBOK Quartz Analog Clock with Auto Sensor
Quartz Alarm
Accurate Quartz movement. Green illuminated face dial. 3 AA batteries required (not included)
Color: White
Brand: MEKBOK
ASIN: B0041A5I16
UPC: 885496900900
Part No: 3675E
Equity by La Crosse 14080 Analog Night Vision Alarm
Quartz Alarm
Large dial analog clock features so much, like a sweeping secondhand and illuminating dial. Its on-demand feature instantly illuminates the dial with a bright blue light by pressing the snooze button. With an auto sensor, this clock activates a green glowing backlight with its night vision technology and can be adjustable to your comfort level. Its accurate quartz movement is silent and is battery operated. Clock also offers a 3.50 inch white dial with metal hands and includes red alarm hand.
Color: white
Brand: Equity by La Crosse
ASIN: B01AW1Q4AQ
UPC: 047404140802
Part No: 14080
Braun BNC005BKBK Classic Motion Analog Quartz Alarm
Quartz Alarm
Braun Alarm clocks have a reputation of being functional, reliable and very nice to look at. Back by popular demand, the classic clocks are largely re-editions of the favorite older styles: this alarm clock is truly a classic. With a cover to protect the clock in the suitcase, it features a time zone map of the world, a motion activated snooze, and a continuous light-on function allowing the clock to be used as a flashlight to help you make your way around an unfamiliar new place. This well-crafted clock features an on/off button with locking mechanism. Materials: ABS Plastic. Product Dimensions: 3.1" L x 2.8" W x 1.2" H. Weight 0.40 lbs.
Color: Black
Brand: Braun
ASIN: B008JELISM
UPC: 885175821946
Part No: BNC005BKBK
FAMICOZY Small Alarm Clock,Quiet Non Ticking with Snooze and Backlight,Crescendo Alarm,Big Numbers for Easy Reading,Analog Quartz Alarm Clock for Bedside Nightstand,Battery
Quartz Alarm
FAMICOZY Small Quartz Alarm Clock with Non Ticking and Snooze/LightBig Numbers and Small SizeBig numbers on dial is easy to read even across the room and the clock is small to take up little room on your nightstand or any place you like to. Also it is portable to take along with your journey on holidays Quiet with Non TickingSecond hand sweeps smoothly without ticking to give you a quiet and comfortable sleep.Quarzt sweep movement ensure time accuracy wellNightlight and Luminous Big nightlight button on top is very easy to be pressed to illuminate the neat dial for time reading at night and hour/minute hands are luminous for a while when in dark.The more light hands absorb at daytime,the longer luminous in darkCrescendo Alarm with Repeating SnoozeThe alarm is loud and gradually beeps louder in volume to wake you up.The alarm is set to last for about one hour if not snooze or turn it off.Press the top button for another 5 minutes sleep and snooze repeats every 5 minutes until you turn the alarm offProduct details Size:2.95*2.95*1.50 inWeight:0.23lb Requires one AA battery(NOT INCLUDED) Package include1 x clock 1 x instruction manualWarrantyMoney back guaranteed with no question asked if not satisfied with the product
Color: Black
Brand: FAMICOZY
ASIN: B0779NBFH3
UPC: 615228028769
Part No: FG-999
BonyTek Super Silent Desk Alarm Clock, Quartz Alarm Clock with Loud Mechanical Bell Birdsong Melody Alarm, Nightlight, Snooze, Silent Sweep Seconds, Luminous Hands, Battery Powered
Quartz Alarm
Successive Sweep Seconds, Super Quiet Clock  ◆ Concise alarm clock with the silent sweep seconds quartz movement technology, accurate time, super quiet, No ticking.  Snooze, Repeat Every 5 Minutes ★ When the alarm ring, gently press the snooze button at the top, the alarm will snooze. Continue to ring every 5 minutes, It will stop ringing until half an hour later or switched OFF. Birdsong Melody Mechanical Bell Played Alternately ◆ Birdcall /8 Pieces of Music /Mechanical Bell, three types of alarm sounds played alternately.You will never sleep through our Alarm Clock! Built In LED Nightlight ★ Simply press the top snooze button to activate for night viewing. 【Note: To save battery, every time nightlight will last 3 seconds and then off automatically】.  Luminous Hands ◆ Hands with luminous function, after the alarm clock to get enough light, luminous only can keep for a period of time to let you viewing time when you turn off the lights at night.【Note:Luminous hands the longer absorb strong light during the day, the longer glow at night】. Clear Intuitive Number Display, Easy to Read, Easy To Setup  ★ Big and intuitive number display on a white dial enable you see the time across the room. Easy to set up, One knob to set time, another knob ...
Color: Sliver
Brand: BonyTek
ASIN: B01MYZWSOO
UPC: 603470401065
Part No: B01MYZWSOO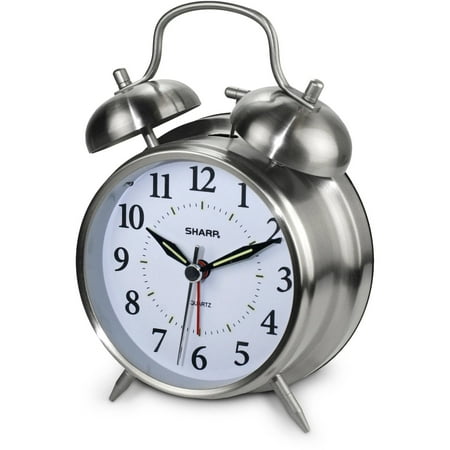 Sharp Twinbell Quartz Analog Alarm
Quartz Alarm
Model: SPC800
Color: Brushed MetalSilver
Rating: 4.214
Price: 9 13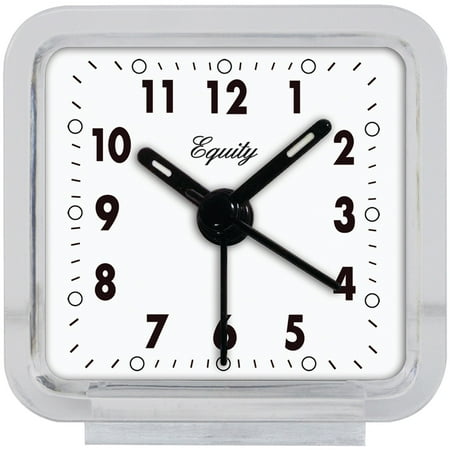 Equity by La Crosse 21038 Clear Quartz Alarm
Quartz Alarm
Model: 21038
Color: TransparentClear
Size: 2.50 x 1.20 x 2.4550 x 1
Rating: 3.143
Price: 5 5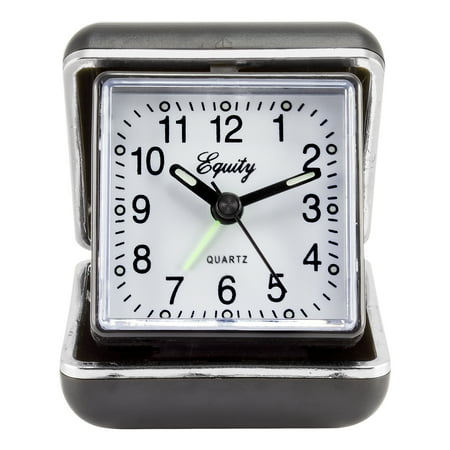 Equity by La Crosse 20080 Quartz Fold-Up Travel Alarm
Quartz Alarm
Model: 20080
Color: Black
Size: 1Pack of 1
Rating: 2.75
Price: 8 9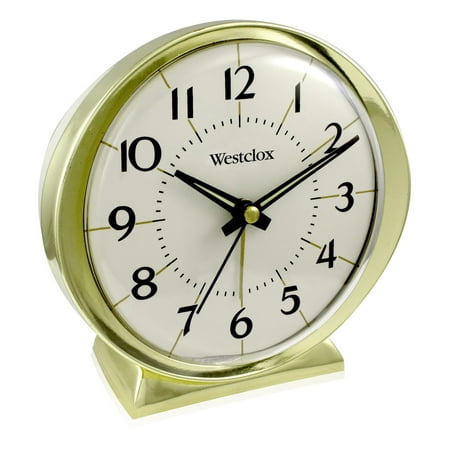 11605QA- Quartz Analog Westclox 1964 Alarm clock- Gold Tone Metal
Quartz Alarm
Model: 11605QA
Color: Gold
Rating: 2.333
Price: 7 14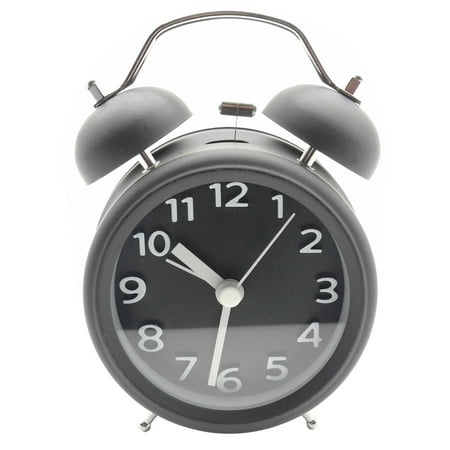 Innolife 3" Quiet Non-ticking Silent Quartz Analog Retro Vintage bedside Twin Bell Alarm Clock With Loud Alarm and Nightlight (3D Number
Quartz Alarm
Color: Black3D Number Black
Rating: 4.5
Price: 9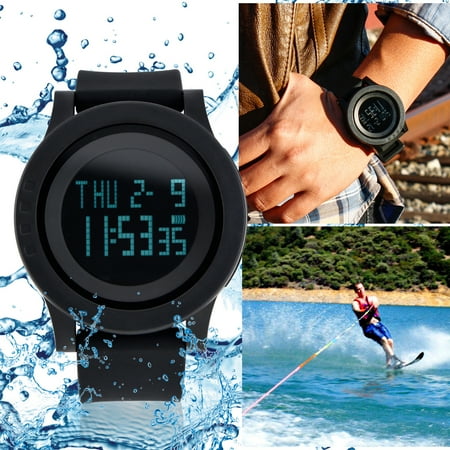 Fashion Digital Electronic Waterproof LED Date Military Sport Wrist Watch Alarm Casual Quartz -
Quartz Alarm
Color: Black
Size: One Size
Rating: 4.357
Price: 11 21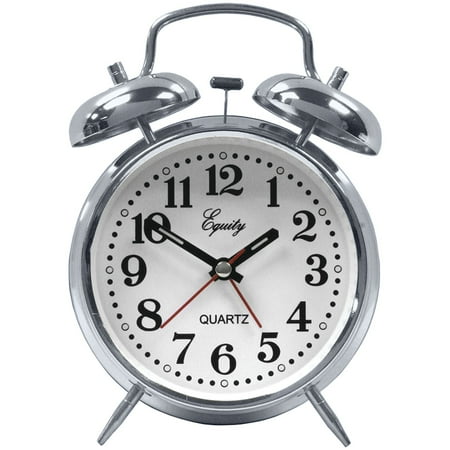 Equity By La Crosse 13014 Analog Quartz Alarm
Quartz Alarm
Model: 13014
Color: SilverChrome
Size: 4.45 x 2.25 x 6.254.45 x 2.25
Rating: 3.97
Price: 8 13
Quartz Alarm Video Results
Motorcycle Security Alarm Disc Lock (Quartz XA10) Oxford
Quartz Alarm
In this videoI look a the Quartz XA10 Motorcycle alarm disc lock sold with the Oxford logo. How to fit the disc lock and what it sounds like with a little ride out on the fb mondial 125at the end cheers
Likes: 52
View count: 15707
Dislikes: 11
Comments:
How to use the Sharp SPC800 Analog Twinbell Quartz Alarm Clock & Features
Quartz Alarm
This is just a how to use video of an alarm clock.
Likes: 88
View count: 11505
Dislikes: 44
Comments:
Seiko Alarm Quartz 7223-6010 alias Quartz Bell-Matic review
Quartz Alarm
If you like my content and want to support my channel through appreciation without giving a donation out of your pocket, then you can if you shop using Amazon. All you need to do is shop through my Amazon Shop Front instead of your usual method, which makes no difference to your shopping experie...
Likes: 18
View count: 1014
Dislikes: 1
Comments:
Globeiz.com is a participant in the Amazon Services LLC Associates Program, an affiliate advertising program designed to provide a means for sites to earn advertising fees by advertising and linking to Amazon.com. Amazon and the Amazon logo are trademarks of Amazon.com, Inc. or one of its affiliates