Red Devil 0425 Pre-Mixed Tile Grout Repair Squeeze Tube, 5.5 oz,
Tile Grout
Red Devil Pre-Mixed Tile Grout is an acrylic based white grout formulated for use on ceramic and mosaic tile. It is a unique grouting composition that provides professional quality with do-it-yourself ease and is formulated to a user-friendly consistency for improved durability. Features: Water Clean Up Mildew and Water Resistant Excellent Adhesion and Durability VOC Compliant Use On: Ceramic and Mosiac Tile Adheres To: Tile Masonry Wood Wallboard Red Devil, Inc. is still a privately-owned family business with state-of-the-art manufacturing facilities in Pryor, Oklahoma. Click on the Red Devil link at the top of this page to vist our Amazon Brand Store.
Color: White
Brand: Red Devil
ASIN: B000VZOPLY
UPC: 783961338329
Part No: 0425
Custom PMG165QT 1-Quart Simple Premium Grout, Delorean Gray (Pack May
Tile Grout
The no-mix, no-mess alternative to traditional grout. The sanded, shrink and crack-resistant formula is also resistant to common household stains. Ideal for grout restoration. Protected by moldgard technology. 1 Qt Delorean Gray Ready to use No mixing No mess Stain resistant No shrinking For joints 1/16" to 1/2". Suitable Tile Types: For interior use only Grouts ceramic, mosaic, quarry, porcelain, stone tile, marble and granite Suitable for wet areas such as tub surrounds, shower floors and shower walls (see Drying Time for more information). Limitations to the Product: Porous stone can be stained by grout; follow directions in Surface Preparation Do not use in steam rooms, areas exposed to prolonged water exposure or underwater Some ceramic, glass, marble or stone tiles can be scratched or damaged by the quartz sand filler. Perform a test on a small area prior to use Not for use in movement joints or changes of plane in the tile installation. In these areas us an appropriate caulk or sealant such as Commercial 100% Silicone Caulk or Polyblend Ceramic Tile Caulk. Instructions: Tile must be firmly attached and cured prior to grouting; please wait at least 24 hours for any dry set mortar meeting ANSI A118. 4 standards, and at least 48 hours when using pre-mixed adhesives. Remove sp...
Color: Delorean Gray
Brand: CUSTOM
ASIN: B001XQ42ZY
UPC: 010186773285
Part No: PMG165QT
Magic Grout & Tile Restore Kit - Complete Solution for Removing and Replacing Cracked Tile and Grout
Tile Grout
Replace cracked tiles and grout with the Magic Grout & Tile Restore Kit. It includes the adhesive you need to install new tiles & fill in the grout.
Brand: Magic
ASIN: B00NO7U614
UPC: 070048027192
Part No: 3013
Custom BLDG Products PBG1807-4 TRV769263,
Tile Grout
A polymer-modified, cement-based sanded grout that produces hard, dense joints that resist shrinking, cracking and wear. Formulated for durability, Polyblend Sanded Grout accommodates 1/8" - 1/2" (3 - 13 mm) joints for interior or exterior installations, including floors, countertops, walls, ceilings, showers, fountains and pools. 7 lbs Color: #180 Sandstone Easy to use - Just mix with water Polymer fortified for hard, durable, professional results Protected by moldgard technology to resist mold & mildew growth. Uses Use to fill joint widths 1/8" to 1/2" (3. 2 to 13 mm) May be used for both floor and wall installations Interior and exterior applications Residential and commercial applications Countertops, tub surrounds, showers and high traffic areas Submerged conditions (swimming pools, spas, water features and fountains. Suitable Tile Types Vitreous, semi-vitreous or non-vitreous tile: ceramic, mosaic, quarry, cement body tiles Impervious porcelain and glass tile Brick and stone veneer Cement-based precast terrazzo Natural stone tile. Benefits Hard, durable grout joints Resists shrinking, cracking, powdering and wear.
Color: Sandstone|Browns
Brand: Custom Building Products
ASIN: B000VPD3CQ
UPC: 010186210742
Part No: PBG1807-4
M-D Building Products 49827 Gum Rubber Grout Float
Tile Grout
M-D Building Products 49827 Gum Rubber Grout Float (PRO)
Color: Black,Yellow
Brand: M-D Building Products
ASIN: B000FSCN5C
UPC: 719279590630
Part No: 49827
IT JUST Works! Grout-EEZ Super Heavy Duty Tile & Grout Cleaner and brightener. Quickly Destroys Dirt & Grime. Safe for All Grout. Easy to Use. 2 Pack with Free Stand-Up
Tile Grout
Have you tried every tile and cleaner you could find on the store shelf? Have you tried every homemade grout cleaner the internet has to offer? Let me guess nothing has even come close to working and you've killed your back and knees in the process. I've heard it hundreds if not thousands of time before. Thats why we now offer Grout-eez to the public. It was designed to be used by grout cleaning professionals only, and it has been used professionally for the last 10 years. After many homeowners asking us to sell Grout-eez to them directly so they don't have to hire a tile grout cleaner company to do their cleaning we decided to take the plunge and sell directly to the general public. Grout-eez is the easiest and best kitchen and bathroom grout cleaner on the market today. It can be used on floors, shower walls and even countertops. Just apply Grout-eez directly to the grout lines or the tile if it's a textured tile, let it sit for 5 to 10 minutes, aggitate it with your stand up grout brush and finally just rinse the floor with any type of mop. It really is that easy GUARANTEED!! Why struggle with cleaners that don't work, with a small hand held brush that makes you get on your hands and knees to scub the grout lines. I can't tell you how many clients have showed me the small are...
Brand: The Floor Guys
ASIN: B0721NFGC4
UPC: 707581876795
Part No: 8541814367
Grout Pen White - Ideal to Restore the Look of Tile Grout
Tile Grout
This Grout ink formula is water based and covers over stained areas that are caused by everyday mould and dirt build up on grout between tiles. Not only does this product restore the grout's look it also helps prevent further moulding with its anti-bacterial formulation. Product Specifications 5mm bullet nib reversible. Water based & non - toxic. Anti - bacterial & anti - fungal formula. Safe to use in enclosed areas. Covers 60 metres of grout area. Water resistant. Valve activated to control ink flow. For use on all types of wall & floor grout.
Color: White
Brand: Rainbow Chalk Markers Ltd
ASIN: B006LMFJS4
UPC: 602589738291
Part No: GP81108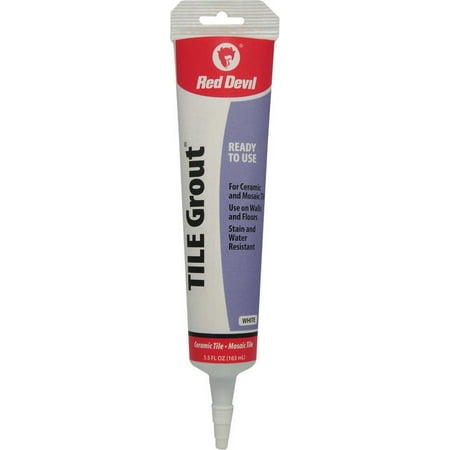 Red? Devil 425 Pre-Mixed Tile Grout?, 5.5 oz, Squeeze Tube, White,
Tile Grout
Model: 0425
Color: White
Size: 5.5 fl oz5.5 oz
Rating: 4.833
Price: 6 3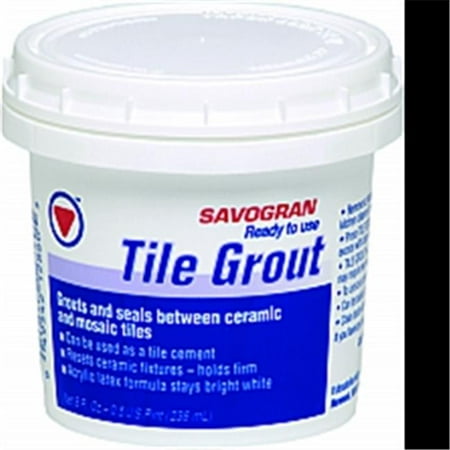 Savogran Ready-To-Use Tile
Tile Grout
Model: 12860
Color: Multicolor
Size: 1/2 Pint1/2
Rating: 5.0
Price: 11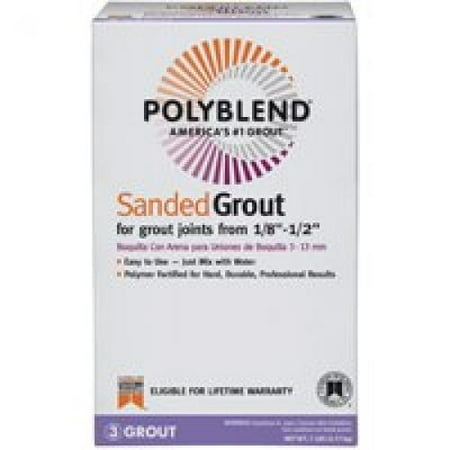 ANTIQUE WHITE TILE GROUT
Tile Grout
Model: PBG107-4
Color: Multicolor
Size: EA
Price: 14 9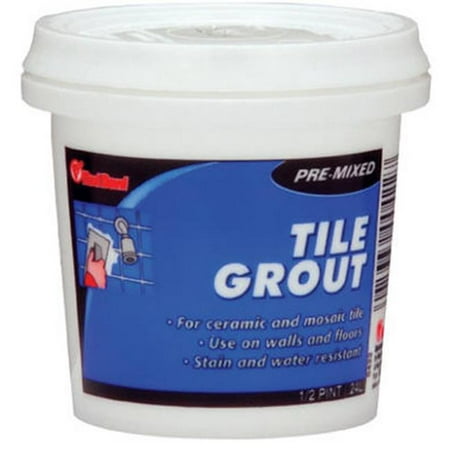 Pre-mixed Tile Grout, 1/2-pint, Red Devil,
Tile Grout
Model: 0422
Color: Multicolor
Size: 1/2 Pint1/2
Rating: 5.0
Price: 10 4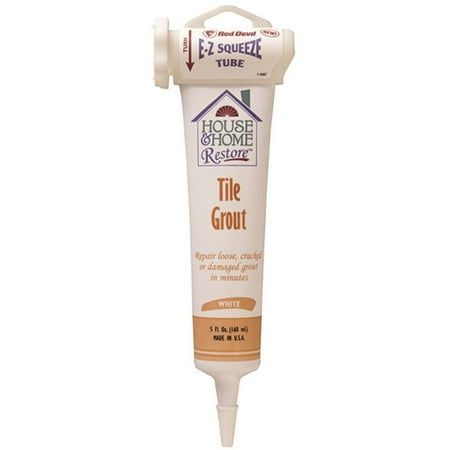 Red Devil House & Home Restore 0438 Tile Grout, 5 oz Squeeze
Tile Grout
Model: W5932
Color: White
Size: EA
Rating: 5.0
Price: 16 3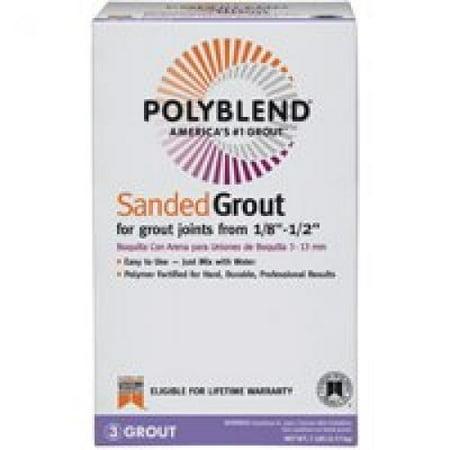 DELOREAN GRAY TILE GROUT 7#
Tile Grout
Model: PBG1657-4
Color: Multicolor
Size: EA
Price: 17 15
Tile Grout Video Results
How To Grout | DIY for Beginners
Tile Grout
#diycrew #hrvdiy #renovision Having a great system for grouting a job is essential to success. Learn my proven system and Stop Messing Around With Grout! Visit our Amazon Store to find tools and products that Jeff Uses https://amzn.to/2ySCGMO Want to see more our newest DIY videos? Subscribe t...
Likes: 9108
View count: 281287
Dislikes: 180
Comments:
How To Grout Tile: Correct Technique Makes It Easy
Tile Grout
Demonstration of tile grouting technique using correct technique, with tips for best practices. Grouting may seem scary, but it doesn't need to be. Forget the long, involved process they probably told you about at the home center. I've been doing it this way for two decades and the results are...
Likes: 8278
View count: 2572441
Dislikes: 689
Comments:
How To Grout | Wall Tile | Unsanded Grout
Tile Grout
#diycrew #hrvdiy #renovision If you want to use Grout with a Sealer, then you need to be FAST. I will show you my system for Grouting and Sealing in 1 step! Visit our Amazon Store to find tools and products that Jeff Uses https://amzn.to/2ySCGMO Want to see more our newest DIY videos? Subscribe...
Likes: 1147
View count: 233788
Dislikes: 107
Comments:
Globeiz.com is a participant in the Amazon Services LLC Associates Program, an affiliate advertising program designed to provide a means for sites to earn advertising fees by advertising and linking to Amazon.com. Amazon and the Amazon logo are trademarks of Amazon.com, Inc. or one of its affiliates