KIMILAR Replacement Wired Infrared IR Ray Motion Sensor Bar Compatible Nintendo Wii and Wii U Console
Wii Accessories
The KIMILAR compatible sensor bar can be used with Nintendo Wii and Wii U consoles, a great replacement if your original sensor bar is lost, broken or damaged. it works Just like the original sensor bar with simple plug and play installation and does not require batteries or any power adapter. The motion sensor comes complete with a clear stand. The sensor bar can be positioned above or below the TV set. compatible with all Wii controllers including Wii U controllers, motion plus controllers and other Wii controller addons.
Color: Basic
Brand: KIMILAR
ASIN: B01I14IASK
UPC: 706084749629
Part No: 08-2261
Beastron Mario Kart Racing Wheel for Nintendo Wii, 2 Sets White Color
Wii Accessories
Nintendo Wii Wheel for Mario Kart (White) x 2 Bundle Product Features: Add more realism to the Wii racing games with this attachment handle Innovative design ensures quick release of the remote control from the attachment handle Firm grip support minimize hand fatigue Heavy duty design ensures these attachment handles can withstand the stress from the realistic sport simulation Matches your Wii remote and Wii controller to fully protect the Wii remote while in use Realistic feel and experience when playing your favorite Wii racing or driving games Converts your Nintendo Wii remote into a racing steering wheel Enhance your Nintendo Wii racing experience with this steering wheel attachment for your Wii remote Easy ""Plug and Play"" installation - Plug your Wii Remote Controller and securely fix into wheel slot Compatible with Excite Truck, GT Pro Series, Excitebike, Mario Kart 64,Moto Roaderm Need for Speed: Carbon Nintendo Wii, Monster 3x3: World Circuit, Cars, and many other Wii Racing games. Specifications: Material: Plastic Dimensions: (7.09 x 1.77)"" / (18 x 4.5)cm (Dia x H) Weight: 5.33 oz / 151 g Compatible with: Nintendo Wii Package include: 2 x White steeling wheel(Remote controller not include)
Color: White
Brand: Beastron
ASIN: B001PO2BJI
UPC: 025154989650
Part No: 10027
CTA Digital Wii Grand Slam Sports Pack
Wii Accessories
This is the ultimate player's package for the multi-dimensional sports lover. It comes equipped with a tennis racket, baseball bat, golf club, steering wheel, clear remote cover, and Wrist Strap. The lightweight material assures that these accessories won't be a heavy burden on your arms, allowing you to enjoy lengthier playing sessions without tiring as quickly. Located at the base of the detachable handle is a compartment that is designed for the Wii remote control (with or without Wii MotionPlus adapter connected) to fit right into. With the remote snugly secured, and your chosen attachment screwed onto the handle you can freely serve, swing, and steer to the action of your Wii game. The pack includes a Baseball Bat, Tennis Racket, Golf Club, Steering Wheel, Clear Cover (to protect your remote), Wrist Strap, Detachable Base Handle, and Adapter for Wii Motionplus.
Color: Black
Brand: CTA Digital
ASIN: B0031QFJVU
UPC: 809187162583
Part No: WI-6KB
2 Packs Nunchuk Nunchuck Remote Controller Joypad for Nintendo Wii Wii U Console
Wii Accessories
Features: 100% brand new and high quality guaranteed! Compatible with Nintendo Wii. Used in conjunction with the Wii Remote controller. 3-axis motion-sensing. Features the "C" and "Z" buttons as well as an analog stick. Frees you to aim and fire using a more natural motion with the Wii Remote. Players are free to hold them in whichever hand is most comfortable. Region Free. ( It can use on any region of Nintendo Wii). Use it to move your characters and have them perform all kinds of specific actions whether it's throwing a pass in football or aiming a ranged in an action game. Nunchuk controller ONLY, the Wii and Wii Remote controller NOT included. Specification: Device Type: 2PCS Nunchuck Controller for Nintendo Wii Video Game Compatible with: Nintendo Wii Connectivity: Wired Material: Plastic Dimensions: 4.33*1.57*1.18 in(11*4*3cm) Cable Length: 34.6 in(88cm) Weight: 5.11 oz (145g) Color: White Package Includes: 2 x Nunchuck Controller for Nintendo Wii Video Game White.
Color: White
Brand: Ankey
ASIN: B07CKBKTRC
UPC: 605945686939
Part No: A004
PORTHOLIC Wii to HDMI Converter 1080P with 5ft High Speed HDMI Cable Wii2 HDMI Adapter Output Video&Audio with 3.5mm Jack Audio, Support All Wii Display 720P, NTSC, Compatible with Full
Wii Accessories
Please Note: The PORTHOLIC Wii to HDMI Converter is not an upscaler. The MAXIMUM native resolution of Wii is analog out 480i or 480p depending on the cable you use, which means the adapter will NOT magically turn your games into 720p or 1080p.Instead the converter will use the component analog 480p video signal and turn it into digital information to be send through the HDMI cable so as to help Will be functioned in 720/1080p device with better viewing.Make sure your cable is a HDMI A Male to A Male Cable and the connected monitor has HDMI ports!It will NOT be compatible with HDMI to mini HDMI Cable, HDMI to VGA Cable and HDMI to DVI Cable. Otherwise there be no sound, no picture, no signal or other incompatible situations.**If the connected monitor has no audio output, please use the extra 3.5mm audio jack to connect a speaker or headphone.**The setting of monitor resolution should be in conformity with Wii resolution or set as auto. For example, if Wii is in 16:9 ratio, then the connected monitor should be in 16:9 ratio as well, which ensures you the optimal experience.Note:When you install the device and start it,due to the incompatibility of the device to some terminals, please contact our customer service promptly for return if the following problems arise. 1.No signal2.No...
Color: white
Brand: PORTHOLIC
ASIN: B07539JW4W
Part No: Wii001
CTA Digital Wii Sports Resort 8-in-1 Sports Pack
Wii Accessories
Experience the essential accessories package for Wii Sports Resort with the 8-in-1 Pack for Wii Sports Resort from CTA Digital. Enjoy the realism added to your gaming experience and easily switch according to the multitude of games in the Wii Sports Resort video game. An attachable insert can firmly hold a Wii Remote with or without the protective silicone skin case that comes with the Wii MotionPlus adapter. The lightweight plastic material assures that these accessories won't be a heavy burden on your arms, allowing you to enjoy lengthier playing time without tiring as quickly. With the remote snugly secured, and your chosen attachment screwed onto the handle, you can freely ski, shoot virtual arrows, and throw Frisbees to the action of the Wii Sports Resort video game. This pack includes a Swordplay Attachment, Canoeing Attachment, Golf Club Attachment, Table Tennis Attachment, Frisbee Attachment, Wakeboarding Attachment, Archery Bow Attachment, and a Power Cruising Dashboard Handle.
Color: Black
Brand: CTA Digital
ASIN: B003Q5J4NU
UPC: 809387580224
Part No: WI-8SRB
Insten Dual Charging Station with 2 Rechargeable Batteries & LED Light for Nintendo Wii / Wii U Remote Control, White Controller Charger Dock - (Original Wii Controllers Not Included) Retail
Wii Accessories
Package Includes:1 x Dual Charging Station w/ 2 Rechargeable Batteries LED lightCompatibility:Nintendo Wii / Wii UProduct Description:1 x Dual Charging Station w/ 2 Rechargeable Batteries LED lightNever run out of battery power when you are about to score the winning point.Save money and protect the environment by using the rechargeable batteryHigh capacity battery that lasts 2~4 times longer than the standard AA batteriesDock both of your remote and plug it into any USB port. No need to remove the battery!LED light glow from the base of the dock station to show the batteries charging statusCapacity: 2800mAhPackage includes:2 Ni-MH Rechargeable batteryUSB cableDual Remote Control Charging DockAccessory ONLY. Nintendo Wii Remote control not included.⚠ WARNING: This product can expose you to chemicals including DEHP, which is known to the State of California to cause cancer and birth defects or other reproductive harm. For more information go to P65Warnings.ca.gov.Product names are trademark of listed manufacturer or other owners, and are not trademarks of Insten Fulfillment. The manufacturer does not necessarily endorse use of these products.
Brand: INSTEN
ASIN: B003DSAT0C
UPC: 877083053885
Part No: Dual Wii Remote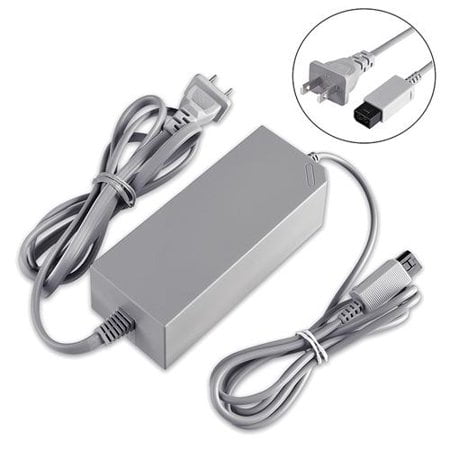 Insten AC Power Supply Cord Adapter Charger For Nintendo Wii
Wii Accessories
Color: White
Rating: 3.857
Price: 5 7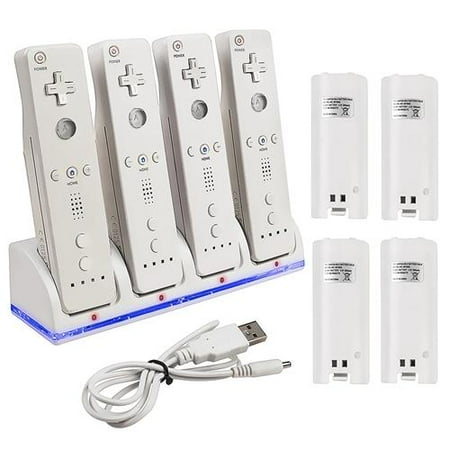 Insten Quad Dock Charge Station Cradle Charger with 4-pack Rechargeable Battery For Nintendo Wii Wii U Remote Controller - White (with USB Charging
Wii Accessories
Model: W00-wii
Color: White
Rating: 2.836
Price: 19 27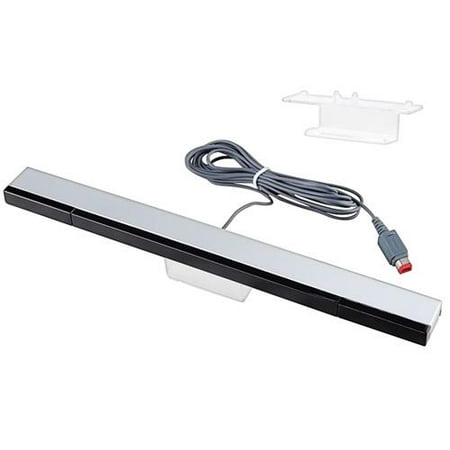 Insten Wired Sensor Bar For Nintendo Wii / Wii U (with
Wii Accessories
Model: n/a
Color: White
Rating: 4.637
Price: 2 9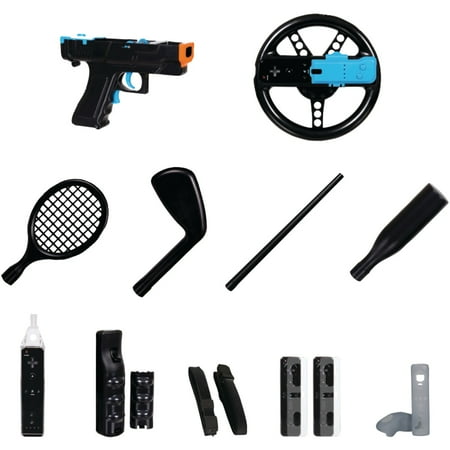 Dreamgear Dgwii-3123 Nintendo Wii 15-in-1 Player's Kit
Wii Accessories
Model: DGWII3123
Color: Multicolor
Size: 2.4x15.6x11.2
Rating: 3.75
Price: 29 39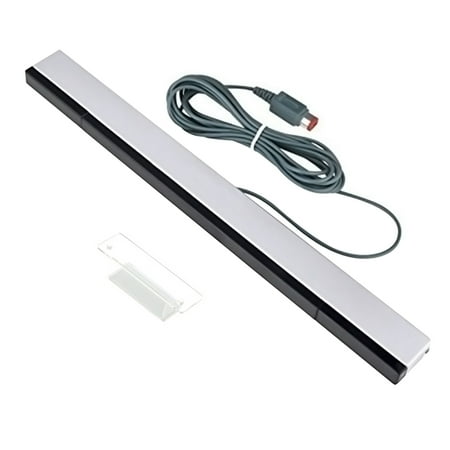 Wired Infrared IR Ray Motion Sensor Bar for Nintendo Wii and Wii U
Wii Accessories
Model: 116808
Color: SilverBlack
Rating: 4.909
Price: 5 15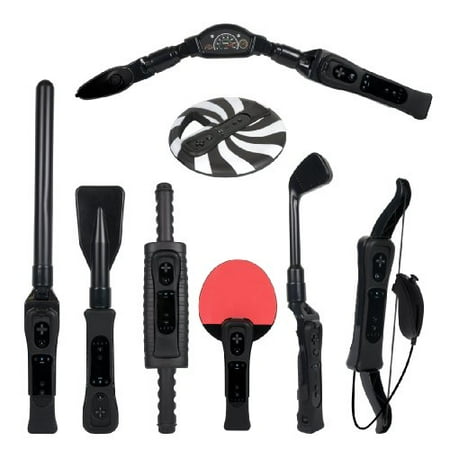 CTA 8-in-1 Sports Pack for Wii Sport Resort - Black
Wii Accessories
Model: WI-8SRB
Color: Black
Size: 15.4x4.1x14.3
Rating: 4.4
Price: 15 34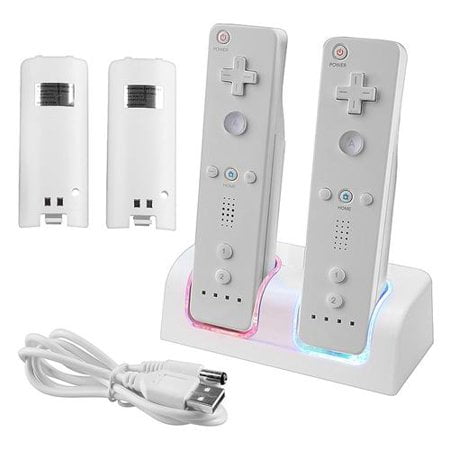 Nintedo Wii / Wii U Dual Remote Controller Charger Dock Station + 2x Replacement Battery by Insten,
Wii Accessories
Model: 227097
Color: White
Rating: 3.604
Price: 11 18
Wii Accessories Video Results
Nintendo Wii BUYING GUIDE & Best Games - Collector Help
Wii Accessories
KacyDaGameNerd & Metal Jesus show you everything a new Nintendo Wii console buyer needs to know: hardware variations, accessories, 3rd party add-ons, rare or unusual games and some game recommendations for Day 1 Purchase! GAMES SHOWN: Cyberbike My Horse & Me: Riding for Gold Wii Fit Wii Sports P...
Likes: 10592
View count: 829817
Dislikes: 461
Comments:
Trading In My ENTIRE Wii COLLECTION... How Much Will GameStop Pay me?? (Not What I thought...)
Wii Accessories
I decided to see how much gamestop would pay me if I traded in my entire Wii Collection... This collection includes many accessories, games, and the actual Wii console. How much do you think it'll be worth? Let me know in the comments! Do you still have a wii? Start your own Wii Collection! Wii...
Likes: 1125
View count: 125370
Dislikes: 187
Comments:
All Wii Accssesories
Wii Accessories
Lots of wii accessories for wii! And all of them are real apart from 4. Can you guess which ones???!!!
Likes: 203
View count: 108715
Dislikes: 47
Comments:
Globeiz.com is a participant in the Amazon Services LLC Associates Program, an affiliate advertising program designed to provide a means for sites to earn advertising fees by advertising and linking to Amazon.com. Amazon and the Amazon logo are trademarks of Amazon.com, Inc. or one of its affiliates